2023-10-30
Grandma's Favorite Party Mix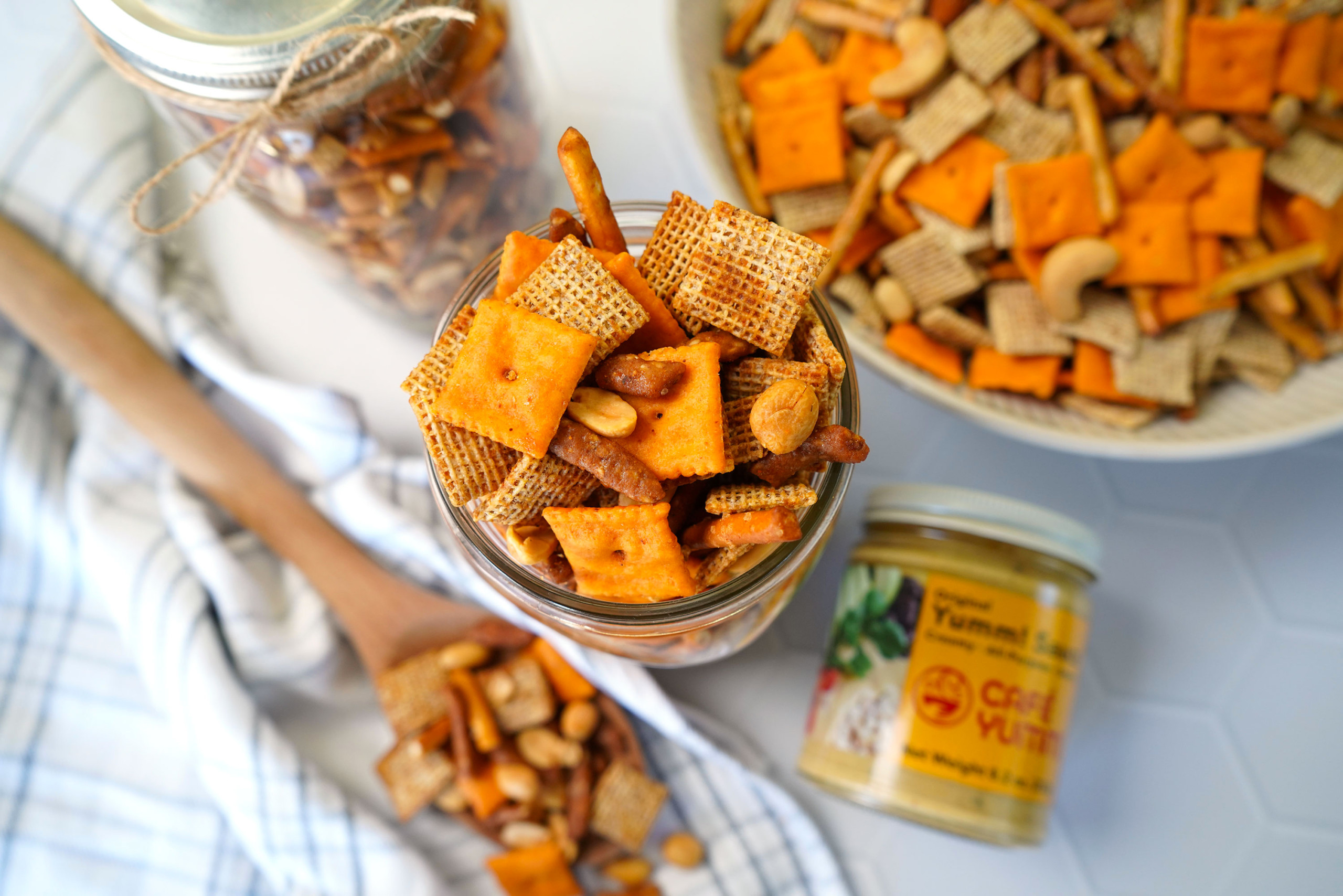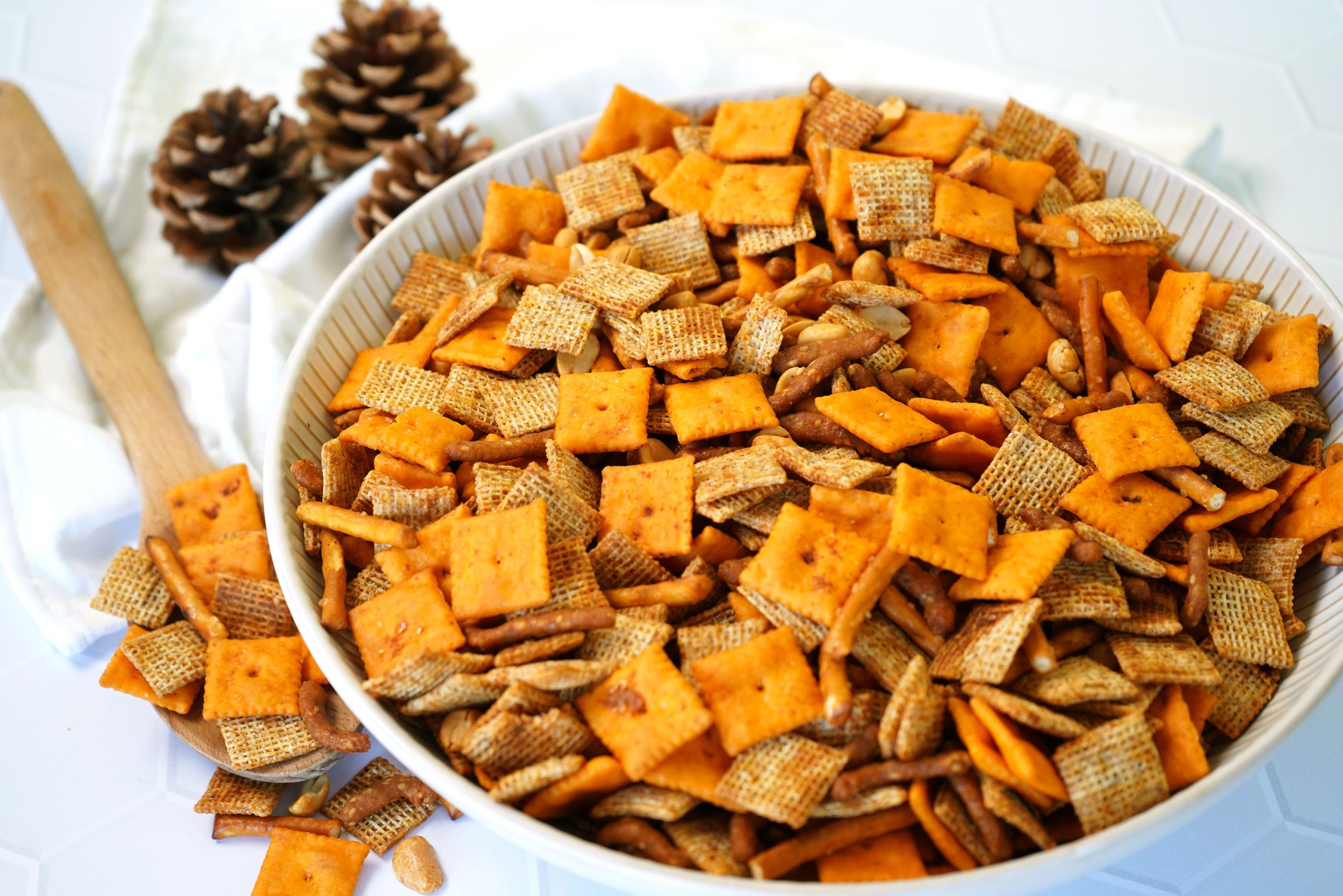 Savory, crunchy, and totally addictive, oven-baked party mix has been a fall favorite since the 1950s when the original recipe appeared on a popular cereal box. For seven decades, families have looked forward to the cool weather tradition of making big batches to share and enjoy.
While the ingredients we use here are inspired by the original recipe, party mix is the easiest and most customizable DIY snack. Many people over the years have developed their own special versions using a variety of cereals, nuts, and crackers, as well as different herbs and spices to create a seasonal treat that's uniquely their own.
Our recipe does just that with the addition of Original Yumm! Sauce®  to infuse the party mix with delightfully tangy and deeply umami flavor. It can even be made gluten-free or vegan with some simple substitutions.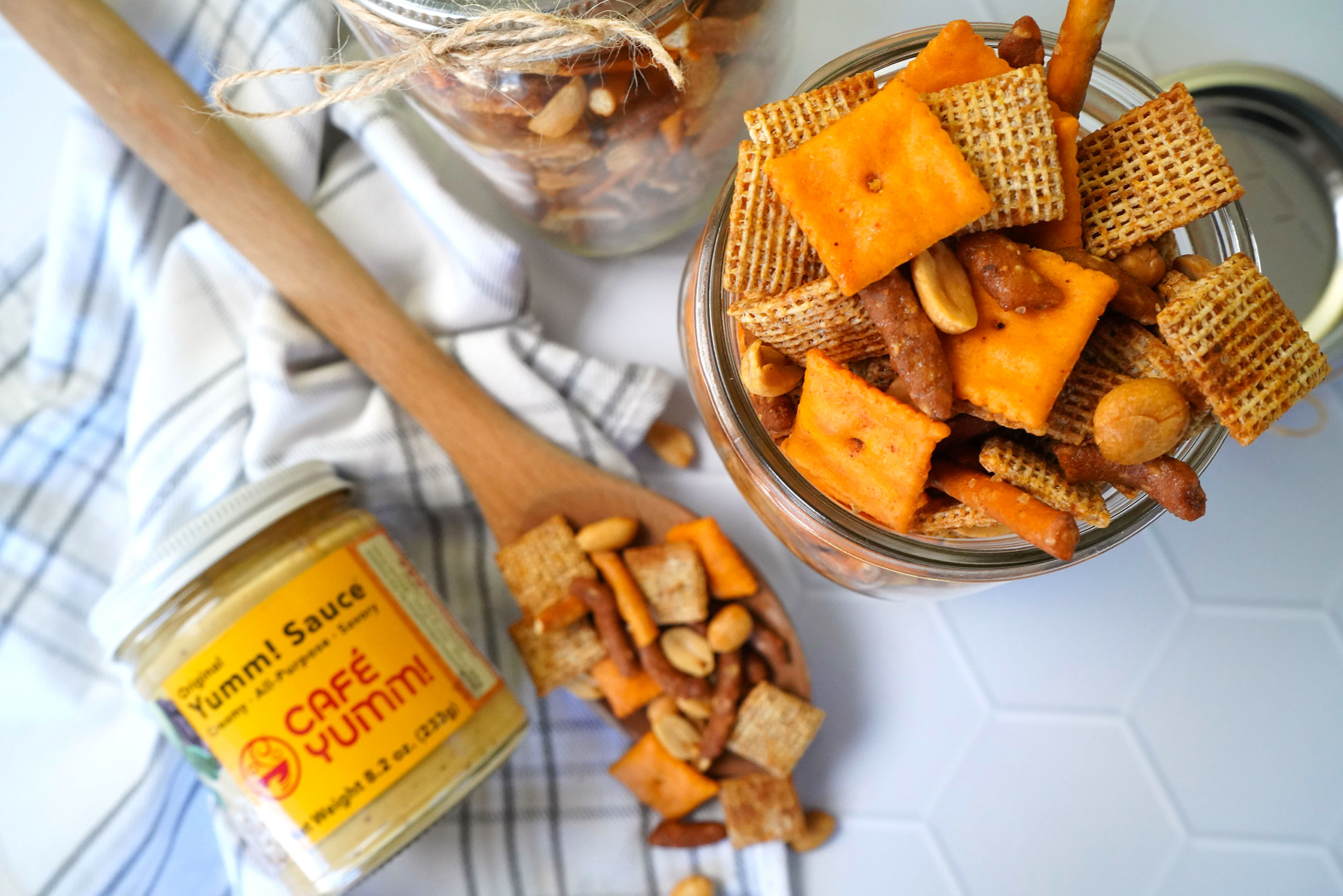 Oven-Baked Party Mix is the Best Gift!
One of the best things about party mix is that you can easily make large batches to share with friends and family. It's a wonderful gift when lovingly presented in a hand-decorated glass jar, but any food-safe, airtight container will work. It lasts about three weeks when properly stored, so you can even pack party mix in zip top baggies and mail it to loved ones around the world. Just imagine their smiles when you tell them it's made with Yumm! Sauce. Wow!
Another fun idea is to bring a big bowl of party mix to your next get-together. Whether you're attending an office holiday party or a kid's recital reception, party mix is always a hit!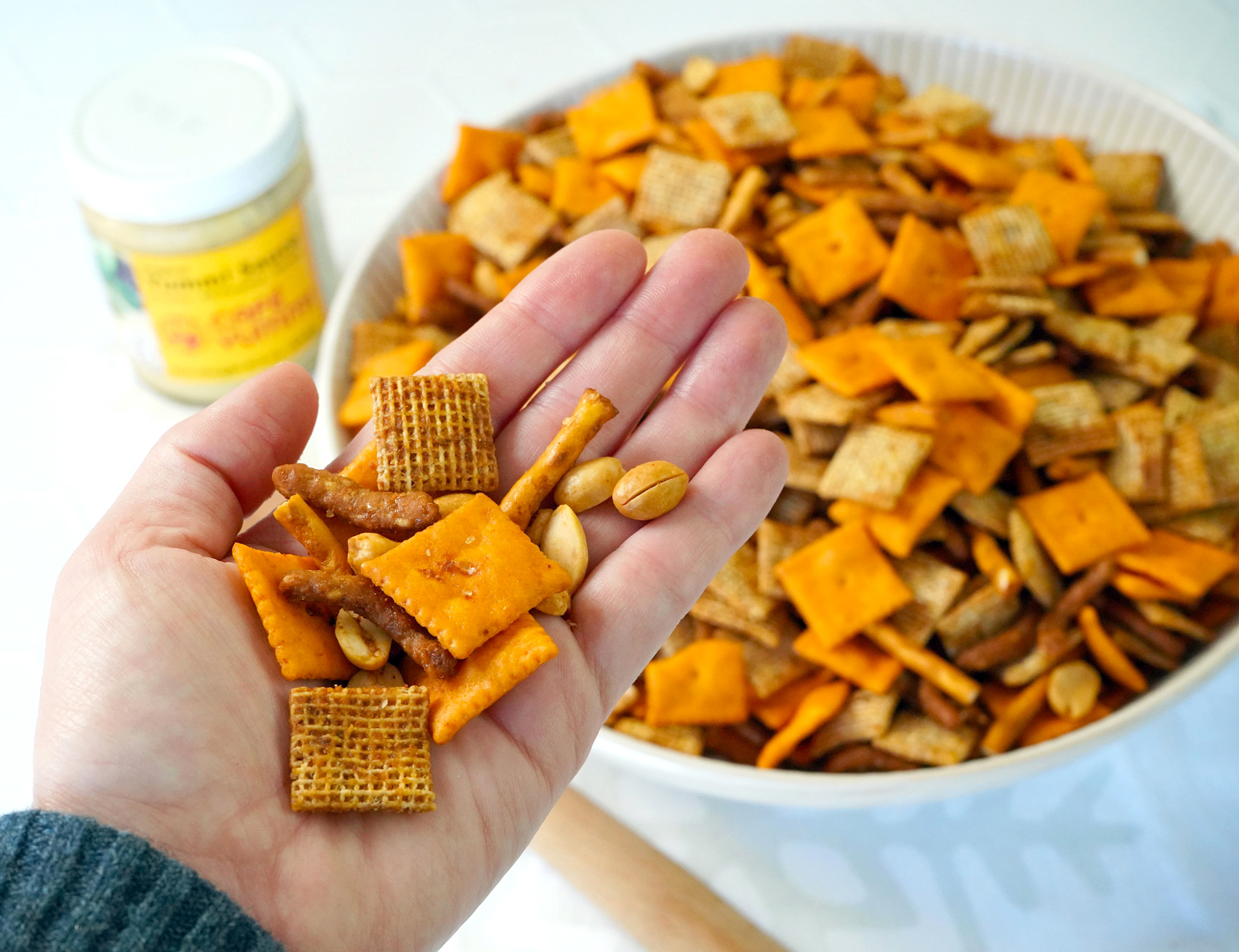 Grandma's Favorite Party Mix Recipe
Prep Time: 15 minutes 
Cook Time: 1 hour
Makes about 15 cups
Ingredients
6 cups multi-grain cereal squares (12 oz box)
5 cups cheese crackers (11 oz box)
2 cups thin pretzel sticks
2 cups sesame sticks
2 cups roasted peanuts
6 Tbsp melted butter
2 Tbsp Original Yumm! Sauce
1 Tbsp hot sauce
1 1/2 tsp seasoning salt
1 tsp cayenne powder
3/4 tsp garlic powder
1/2 tsp onion powder
Directions
Preheat oven to 250 degrees F.
Mix the cereal, cheese crackers, pretzels, sesame sticks, and peanuts together in a large bowl.
In one small bowl, mix together the melted butter, Yumm! Sauce, and hot sauce.
Using a separate small bowl, mix the dry spices together.
Slowly add the dry spice blend to the sauce mixture while stirring to avoid clumps.
Add half of the spiced sauce mixture to the cereal mix and gently fold several times to combine. Add the rest of the spiced sauce mixture and stir to evenly coat.
Divide and spread the coated cereal mix evenly in large glass or enamel casserole pans.
Bake for 1 hour stirring every 15 minutes.
Remove from oven and allow to cool completely on wire racks before placing in storage containers of choice. (Your party mix flavors will mellow out a bit by the next day.)
Store in airtight containers for about 3 weeks – if it isn't immediately devoured, that is!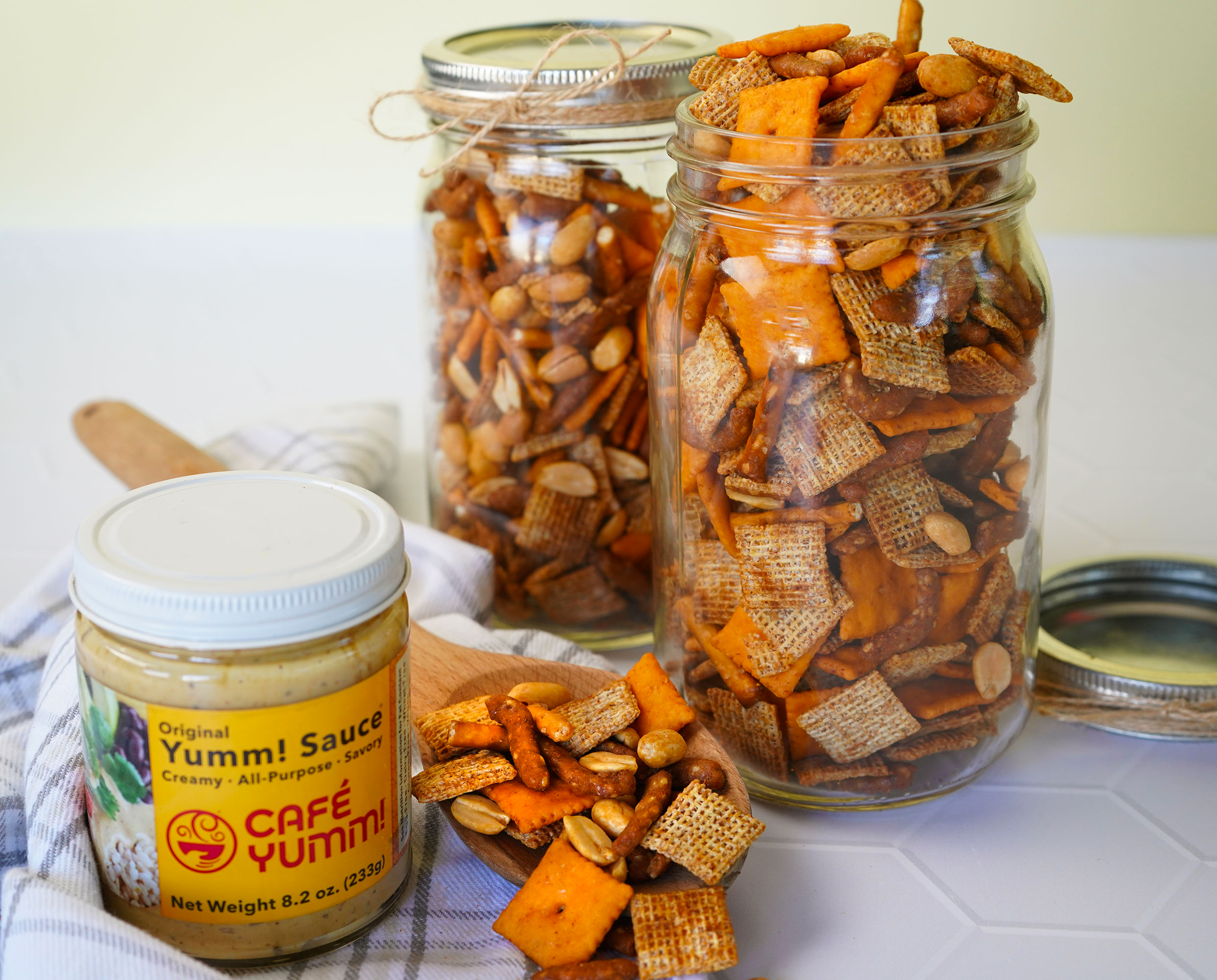 You can find Yumm! Sauce for this amazing party mix recipe in grocery stores, at all Cafe Yumm! restaurants, or you can order online here.
Enjoy!