2023-06-12
Baked Chicken Nuggets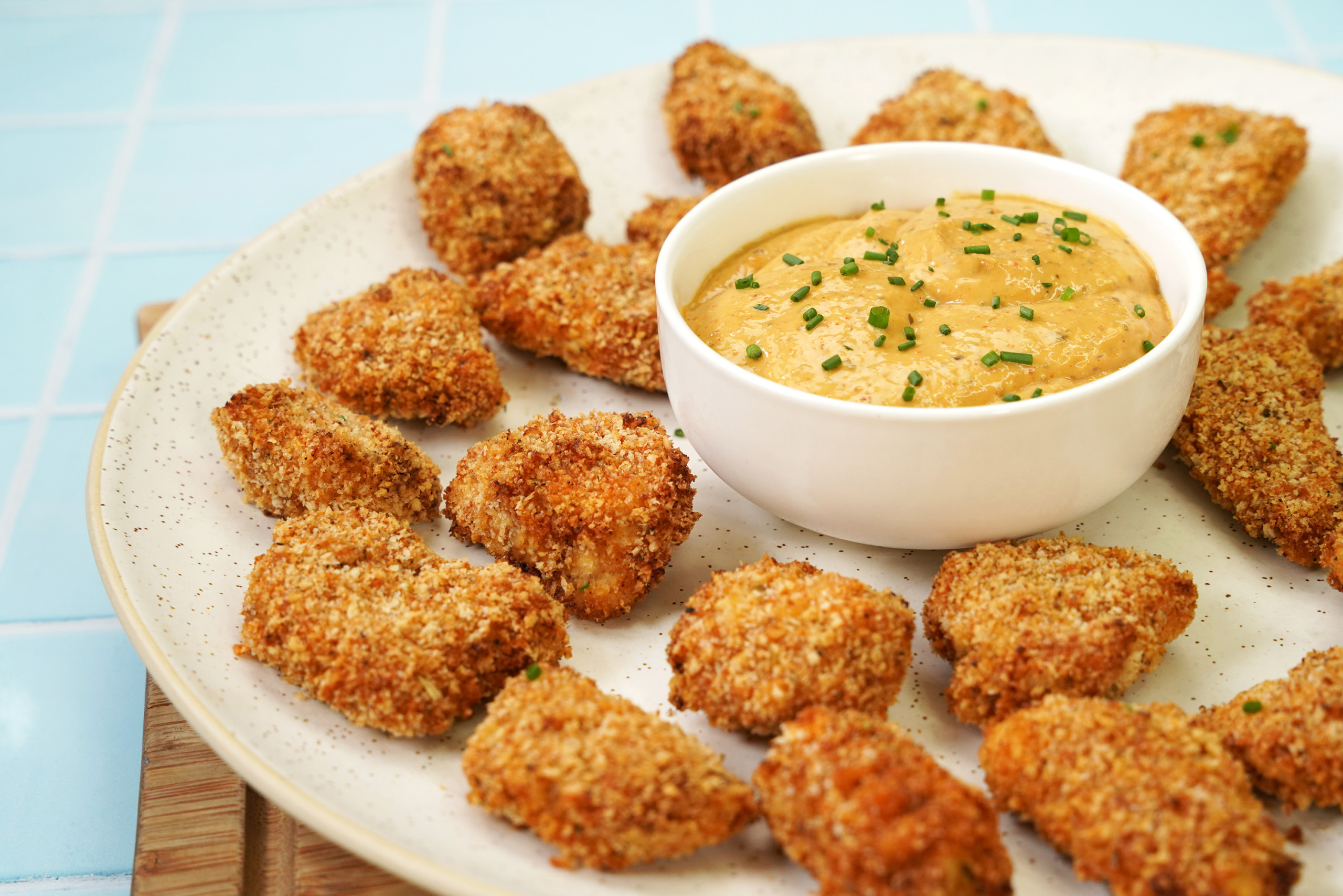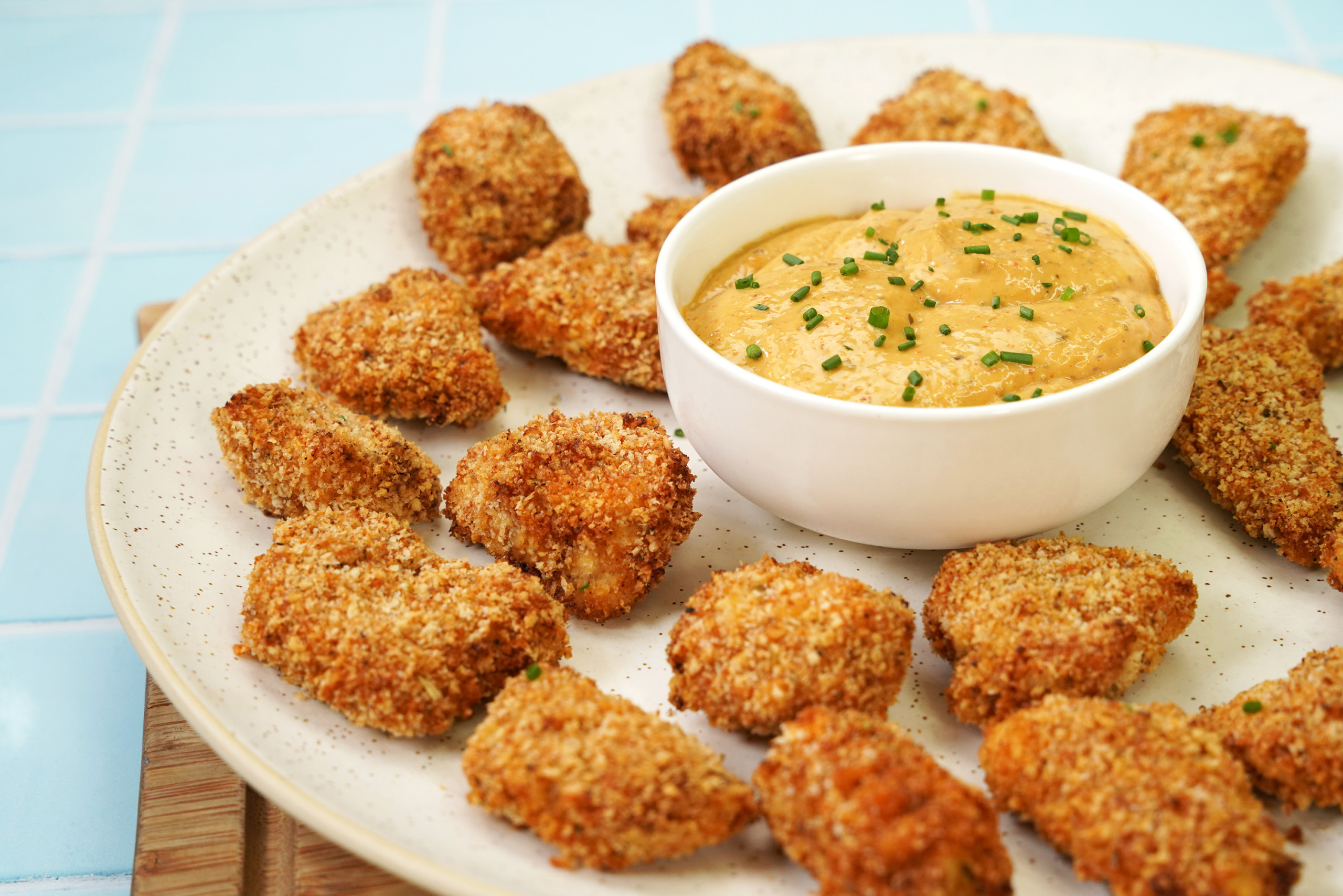 Crispy, juicy, and a little bit zesty, everyone loves baked chicken nuggets!
Do you remember the childhood joy of choosing your favorite dunking sauce for this delightful finger food? Chicken nuggets (or chicken tenders for the grown-ups) still make the perfect midweek dinner, Friday night movie snack, or game day party platter. Served with an array of tasty sauces, like honey mustard, BBQ, ranch — and Yumm! Sauce, of course — the whole family can easily customize their nuggets of happiness.
A classic craving that transcends age, chicken nuggets offer us the glee that only a crunchy, savory, dippable meal can bring.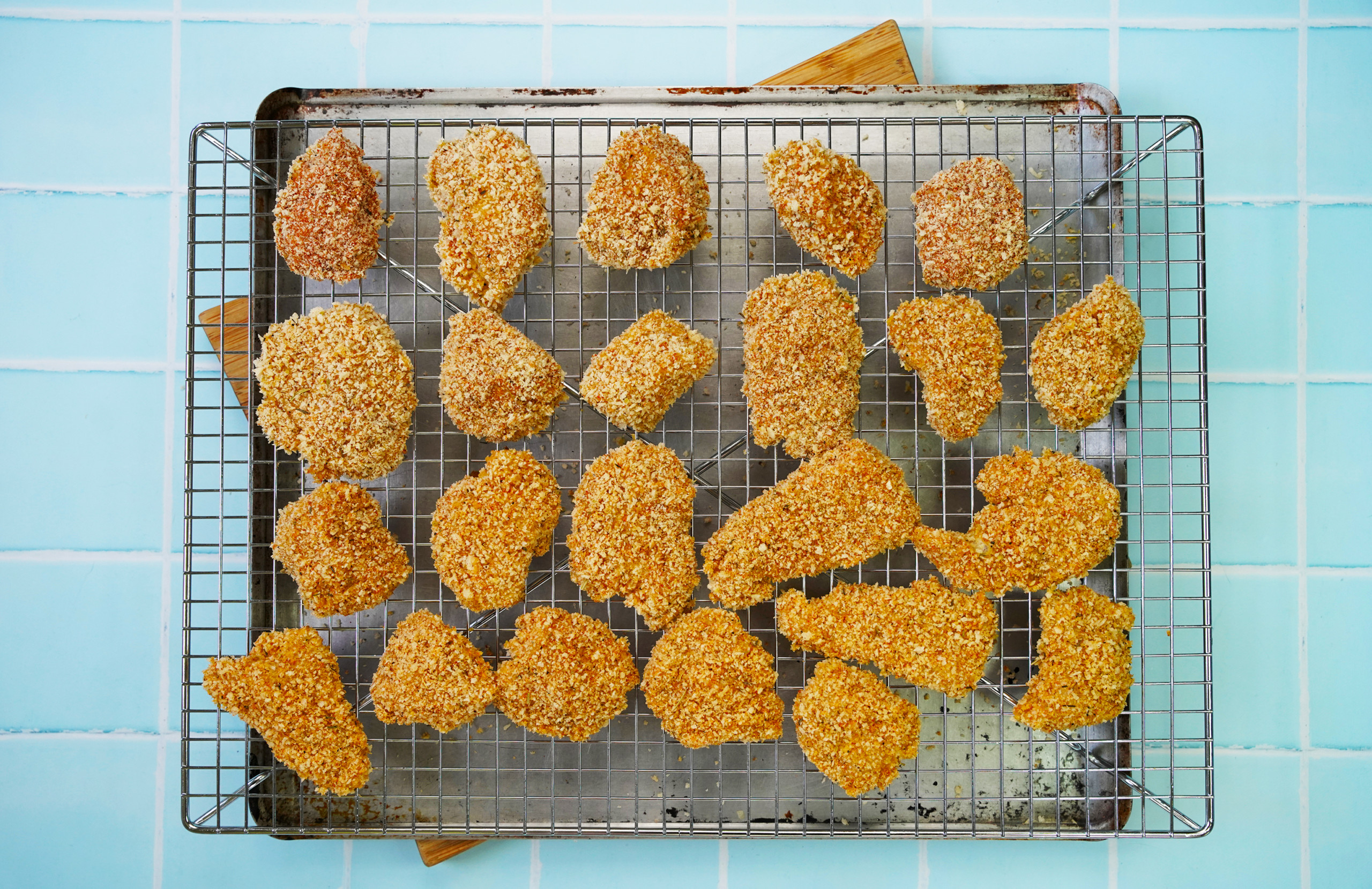 Homemade and Baked for the Win!
A healthier (but just as delicious) version of this often greasy fast food favorite can be made at home using a few wholesome ingredients.
Our recipe for real chicken nuggets is baked rather than fried and starts with boneless, skinless chicken breasts that are cut, seasoned, and dredged in flour. Instead of using an egg wash in the breading process, we use our famous Yumm! Sauce as the wet ingredient before coating the nuggets in herby panko crumbs and baking to perfection. Using the Yumm! Sauce in this recipe adds a wonderful hint of garlic and lemon flavor to the baked chicken nuggets, while keeping the white meat nice and moist.
This is a great egg-free breading option, so you can also use this recipe to make amazing vegan tofu nuggets. Simply replace the chicken with extra firm tofu (that has been pressed/patted dry) and follow the instructions below.
Baked chicken nuggets freeze well too, so you can always make a double batch and freeze some in an airtight container for easy reheating on the go. We love a meal prep hack!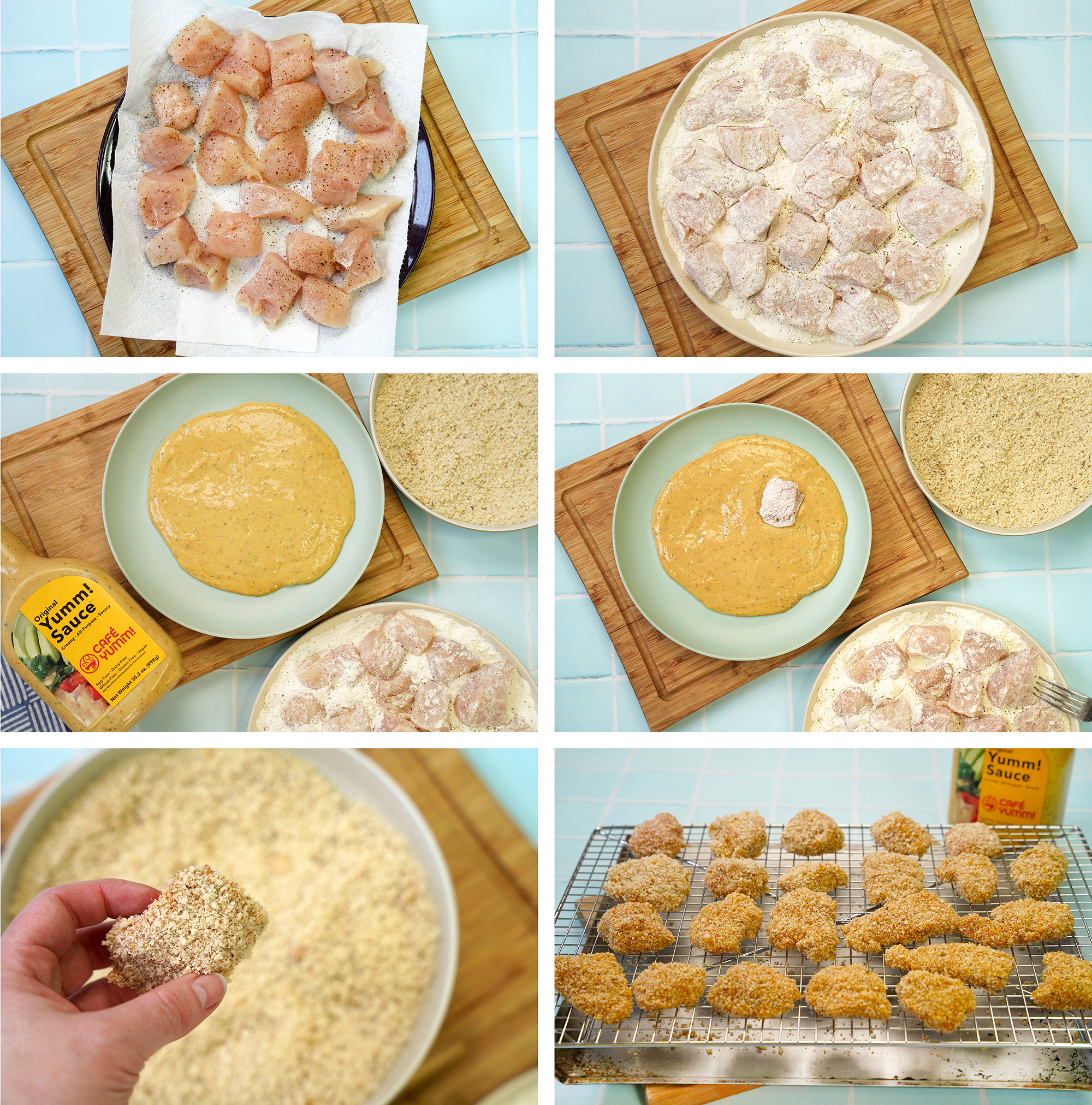 Baked Chicken Nugget Recipe
Prep Time: 20 min. 
Cook time: 20 min.
Makes approximately 24 nuggets.
Ingredients
1 lb boneless skinless chicken breast or extra firm tofu, cut into 1 ½ inch cubes
1 ½ cups Yumm! Sauce + 1 Tbsp water
1 ½ cups flour
1 ½ cups panko breadcrumbs
2 tsp salt, divided
2 tsp black pepper, divided
1 tsp onion powder
1 tsp paprika
1 tsp oregano
½ tsp garlic powder
¼ tsp cayenne pepper
sauces for dipping
Directions
Preheat oven to 400 degrees F.
Rest cut chicken cubes on paper towels and sprinkle with 1 tsp salt and 1 tsp pepper.
Place the flour, Yumm! Sauce, and breadcrumbs in three separate shallow bowls.
Whisk remaining spices into the breadcrumbs.
Add 1 Tbsp water to thin the Yumm! Sauce and mix well.
Line a large baking sheet with a wire rack.
In batches, coat the chicken cubes in flour, shaking off the excess, dip in Yumm! Sauce with a fork, and then coat with breadcrumbs, pressing down on all sides to completely cover. Place on rack about 1 inch apart.
Discard any remaining flour, Yumm! Sauce, and breadcrumbs from the breading process.
Bake nuggets in the oven for 18-22 minutes until the internal temperature reaches 165 degrees F with a meat thermometer and the breadcrumbs become golden.
Remove from oven and allow to cool slightly at room temperature before serving to allow the bread coating to firm up.
Serve with your favorite sauces. We recommend Yumm! Sauce mixed with BBQ sauce or Jal-Ses Ranch.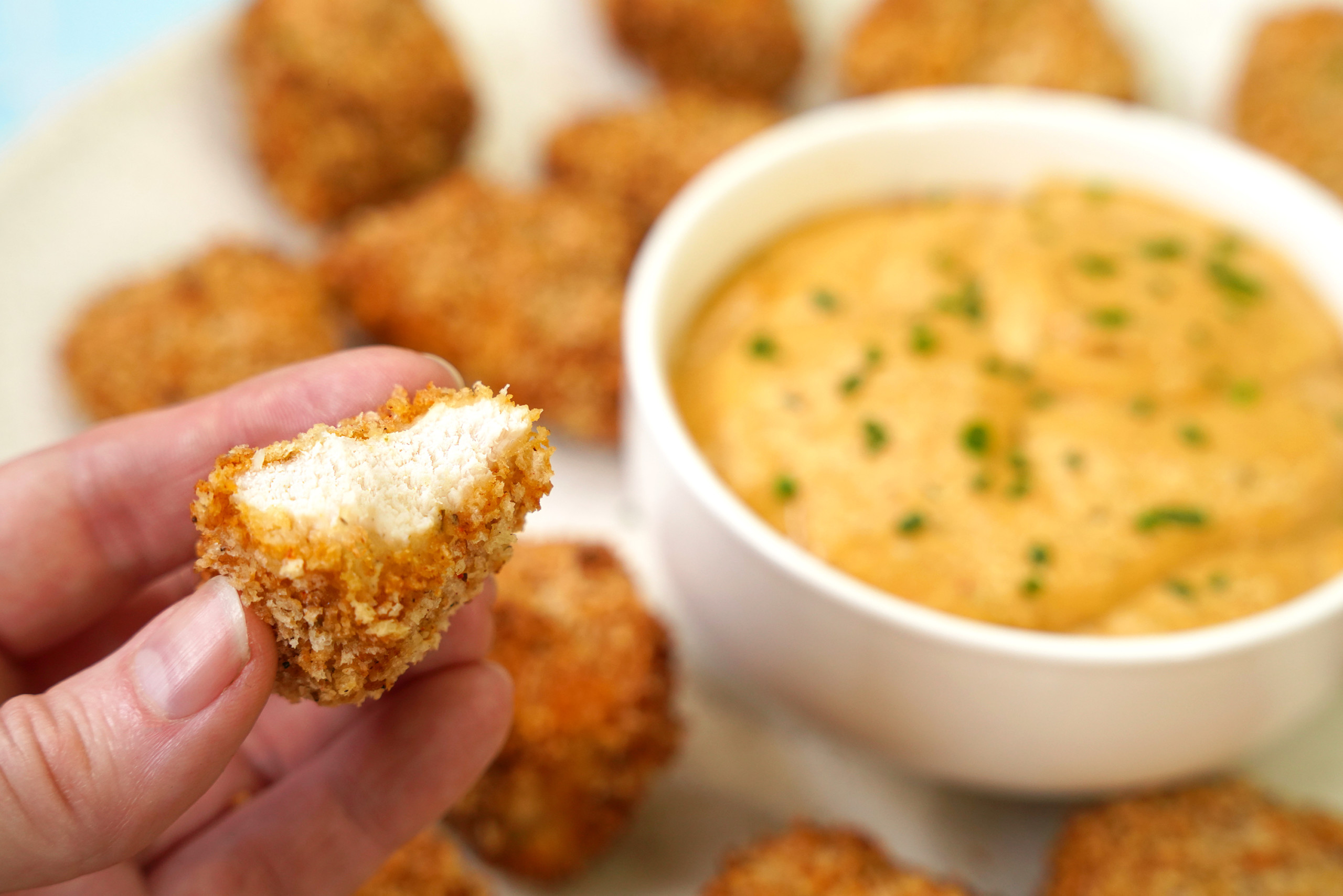 You can find Yumm! Sauce for these delicious baked chicken nuggets in grocery stores, at all Cafe Yumm! restaurants, or you can order online here.
Enjoy!