2022-11-25
Cozy Two-Bean Chili Mugs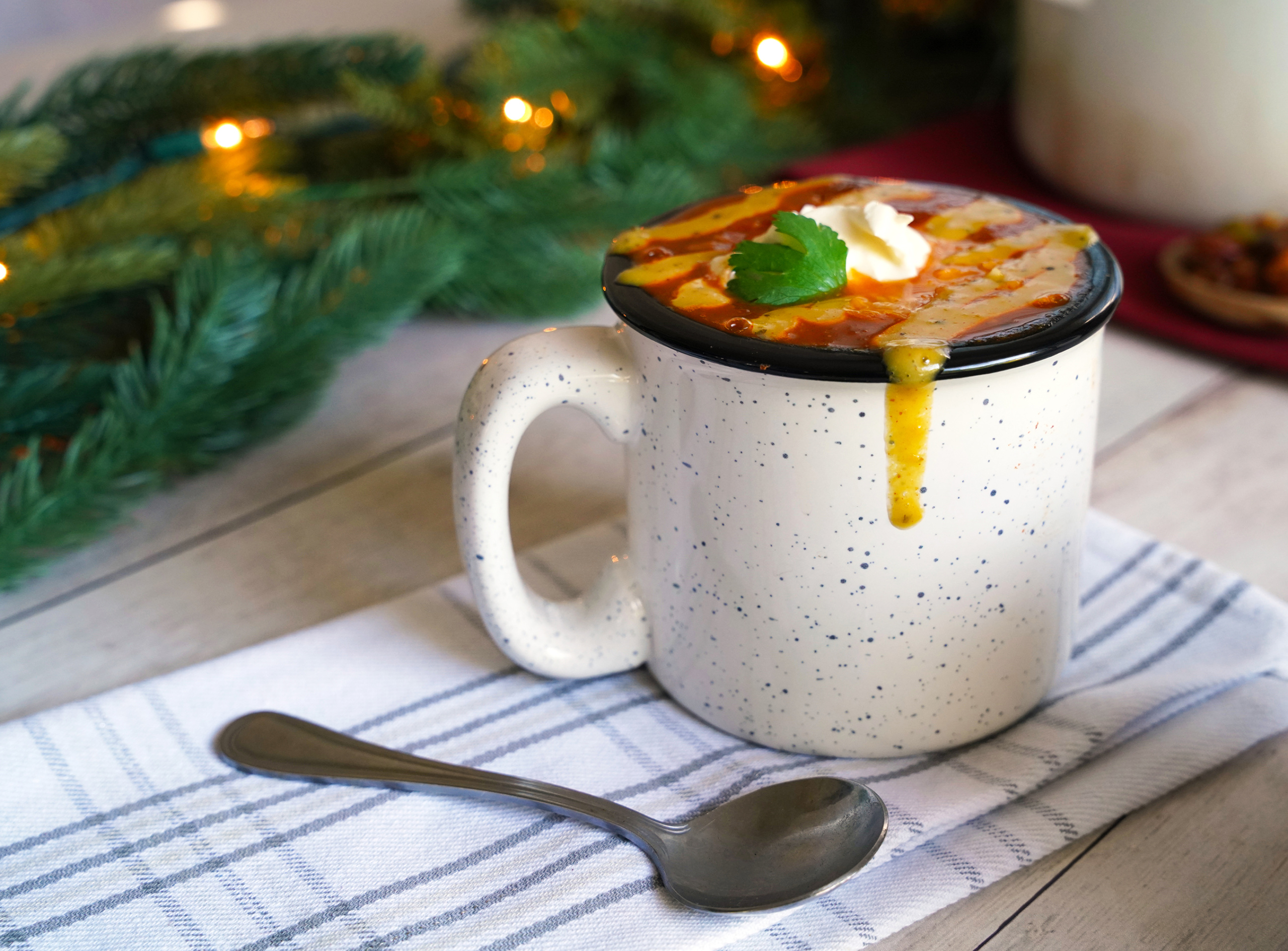 Ready to warm up by the fire with a mug of nourishing goodness? It's chili season!
Popularized at the 1893 Chicago World's Fair, the people of Texas showcased their San Antonio-style chili, and news of the dish spread across the country creating fans everywhere. This comforting symphony of creamy, organic Cafe Yumm! beans and aromatic spices simmered in a rich broth of tomato, peppers, onion, and garlic will make your heart sing. Top with cheese, sour cream, cilantro, and a drizzle of Yumm! Sauce® for a real WOW moment.
Chili is a wonderful staple meal this time of year. A satisfyingly spicy source of fiber and protein, this veggie-packed stew can be made in large batches and then frozen. Simply defrost and reheat for an easy dinner anytime. We love a budget-friendly meal that's also super delicious and wholesome. Plus, it's naturally gluten-free and can easily be made vegan with crumbled tempeh as the ground protein option.
Our favorite way to enjoy this chili is served in a big ceramic mug. It's a fun way to keep your hands toasty while enjoying dinner cuddled up on the couch for movie night.

Cozy Two-Bean Chili Mugs
Ingredients
½ lb dry Cafe Yumm!® Organic Small Red Beans
½ lb dry Cafe Yumm!® Organic Black Turtle Beans
1 ½ lbs ground protein of choice
2 Tbsp olive oil
2 cups chopped yellow onion
2 cups chopped sweet peppers
2 cups sweet corn
2 carrots, chopped
2 celery stalks, chopped
10 cloves garlic, minced
1 jalapeño pepper, diced
Chili Base
1 quart vegetable broth
3 x 15 oz cans tomato sauce
28 oz can fire-roasted diced tomatoes, drained
3 Tbsp tomato paste
Spices
3 Tbsp chili powder
2 Tbsp each of ground cumin, onion powder, smoked paprika
2 Tbsp salt
1 tsp each of ground black pepper and oregano
1 bay leaf
Toppings
Yumm! Sauce® (any flavor)
cheddar cheese
sour cream
cilantro
Directions
Cook beans according to directions on the package, drain, and set aside.
In a large soup pot over medium-high heat, sauté onions, peppers, carrots, celery, and garlic in olive oil with a pinch of salt.
Once the onions caramelize, add the ground protein, sprinkle with salt, and cook until browned.
Add crushed tomatoes, tomato sauce, paste, broth, and all spices. Stir well to combine.
Mix cooked beans and corn into the pot and bring to a boil. Reduce heat to low, cover pot with a tilted lid, and gently simmer.
Stir occasionally until liquid has slightly reduced, about 2 hours.
Taste for seasoning and adjust if necessary.
Ladle chili into mugs and top with cheese, sour cream, a drizzle of Yumm! Sauce, and fresh cilantro. Enjoy!
The post Cozy Two-Bean Chili Mugs first appeared on Café Yumm!.