2022-03-01
Spicy Black Bean Cakes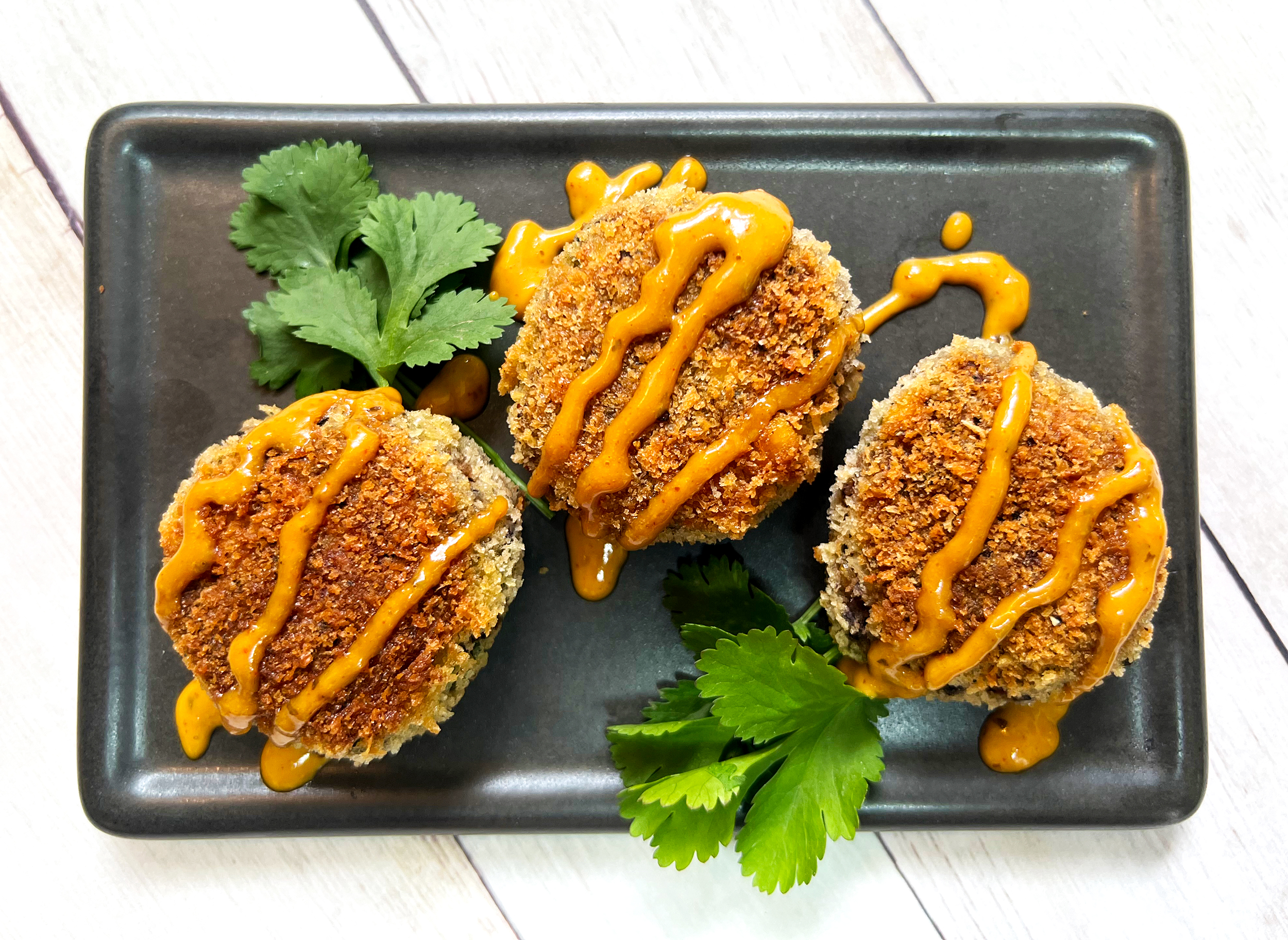 Do you keep pantry staples like dried organic black beans on hand? They are so convenient and versatile! If so, here's a recipe using Café Yumm!® Organic Black Turtle Beans (now available for mail order). We love to make a big pot and transform them into soups, dips, salads, and more throughout the week.
This fun recipe for Spicy Black Bean Cakes is a delicious way to use leftover beans with just a few basic ingredients in your kitchen. Make a batch of them for dinner or serve as an appetizer at your next party. They make great finger food for kids and grown-ups alike.
These beautiful little croquettes are like mini black bean burgers with a crunchy coating. Take a bite to reveal the mashed black beans speckled with a confetti of red peppers, cilantro, corn, onions, and garlic. Top them with avocado, a squeeze of lime, a sprinkle of green onion, and serve with Yumm! Sauce® for dipping.
You can also wrap a few up in a burrito, serve them in a rice bowl with greens, salsa, and sour cream, or try a couple for breakfast with a fried egg on top.
Good news! The organic beans and rice served at Café Yumm! restaurants can now be ordered through our online store. We are happy to finally share these sustainable fine foods sourced directly from organic farms in the US and our favorite producers in Thailand. Find these beloved products here.
To celebrate, we'll share new recipes that inspire creative meals at home featuring these nourishing ingredients. First up are crispy black bean cakes spiced to perfection with a flavorful, creamy center – and of course, a little Yumm! Sauce too.
SPICY YUMM! BLACK BEAN CAKES
Prep Time: 10min. 
Cook time: 25min.
Makes approximately 18 cakes.
Ingredients
3 cups of cooked Café Yumm! Organic Black Turtle Beans, cooled
2 tablespoons olive oil, plus more for frying
1 onion, diced
1 small red bell pepper, diced
1 jalapeno pepper, diced
5 large garlic cloves, minced
2 teaspoons ground cumin or chili powder
1/4 teaspoon cayenne
1/3 cup roasted corn (find it in the freezer at your local grocery store)
Handful of chopped cilantro
1 1/4 cups plain dry bread crumbs, plus ¼ tsp salt & ¼ tsp pepper
1/3 cup all-purpose flour, plus ¼ tsp salt & ¼ tsp pepper
2 large eggs, beaten
Yumm! Sauce®, avocado, green onions, and lime wedges for serving
Directions
Cook beans according to directions on the package and allow to cool to room temperature in the refrigerator.
In a medium skillet, heat 2 tablespoons of olive oil. Add the onion, peppers, garlic, and a pinch of salt. Cook over medium heat until caramelized, about 5 minutes. Add the cumin and cayenne and cook until fragrant, about 1 minute. Mix in the roasted corn and set aside.
Using a fork, mash the beans until the mixture is chunky, but not totally smooth. Stir in the veggie mix, cilantro, and 1/2 cup of bread crumbs.
Form the mixture into ¼ cup patties, about ½ inch thick.
In 3 separate bowls, prepare the flour, beaten eggs, and the remaining 3/4 cup of bread crumbs. First, dust each black bean cake with flour, tapping off the excess. Next, dip into the egg and then roll in the bread crumbs, pressing to make sure the patties are well coated.
In a large skillet, warm ¼ inch oil over medium-high heat until shimmering. Add the cakes in batches and fry until golden brown on both sides. Drain on paper towels.
Serve the black bean cakes with a drizzle of Yumm! Sauce, sour cream, avocado, green onions, and lime wedges.
Enjoy!
The post Spicy Black Bean Cakes first appeared on Café Yumm!.