2023-10-12
Saucy Spider 7-Layer Dip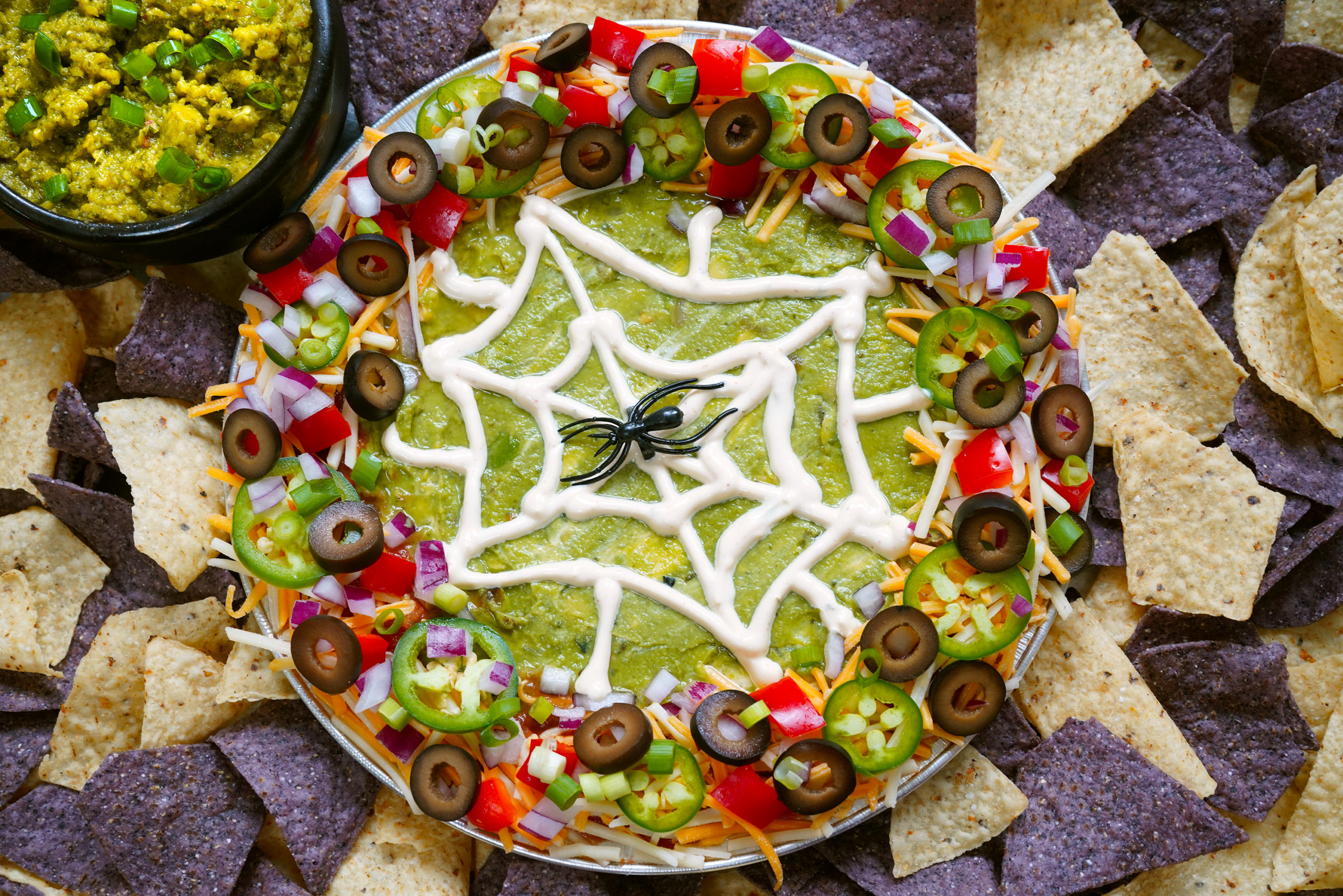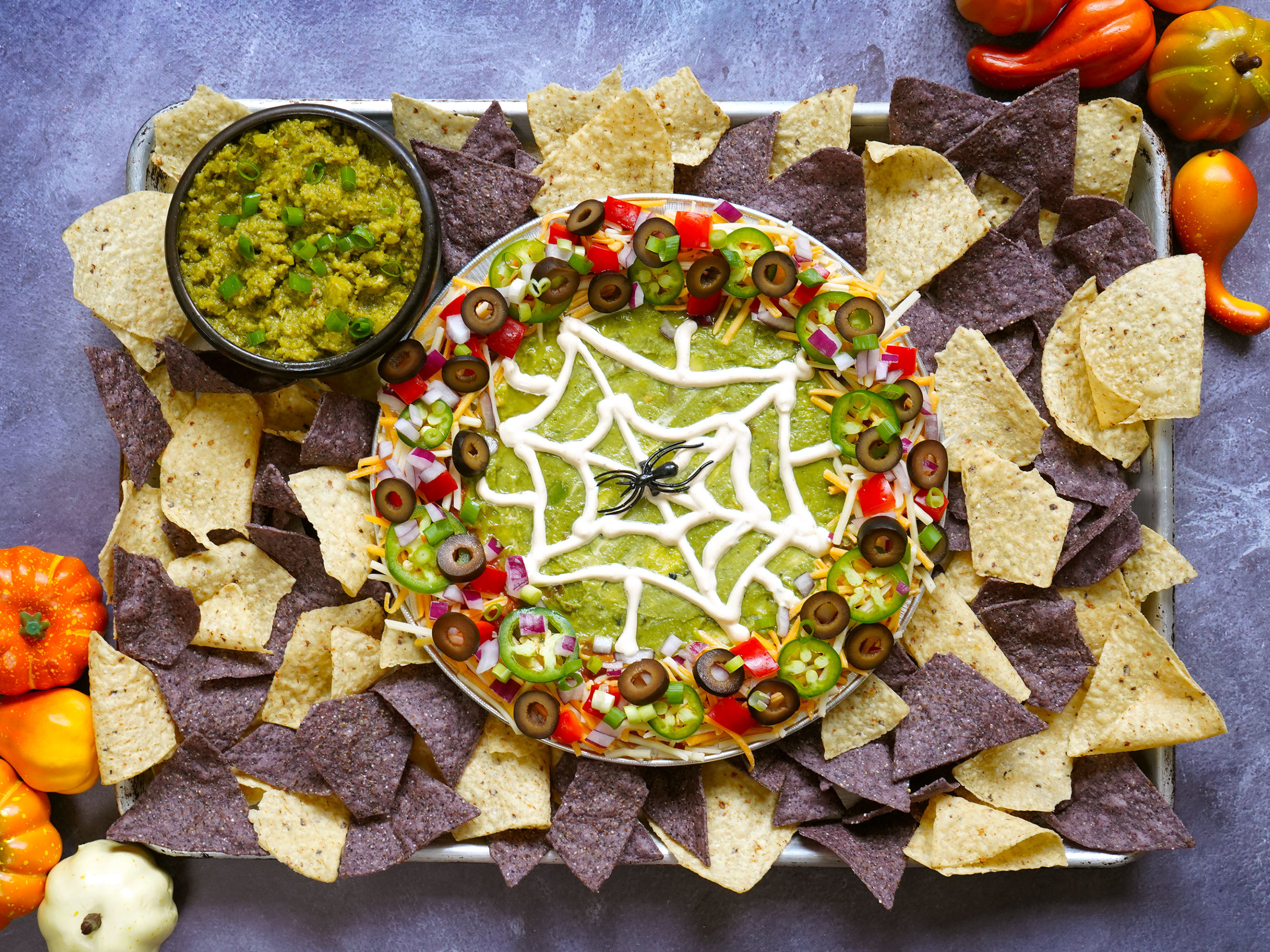 How cute is this 7-layer dip for Halloween and harvest parties?
Fall is here and that means it's time to plan gatherings for hungry ghouls and goblins. This creamy, ooey-gooey platter is hauntingly good! Turning the classic taco dip recipe into a new holiday favorite, this showstopper is made with nourishing ingredients that are also indulgently delicious.
Great for Halloween Party Entertaining!
This 7-layer dip starts with a base of seasoned refried beans topped with a smoky blend of Chipotle Yumm! Sauce and sour cream. Next comes smooth guacamole, red salsa, a sprinkle of cheddar cheese, diced veggies, and a saucy spiderweb design that will wow kids and adults alike.
Serve this easy-to-make dip with a colorful mix of corn tortilla chips, veggie sticks, and a variety of salsas so your guests can spice it up. Most importantly, whoever gets the center bite wins the spider ring prize. Frighteningly fun!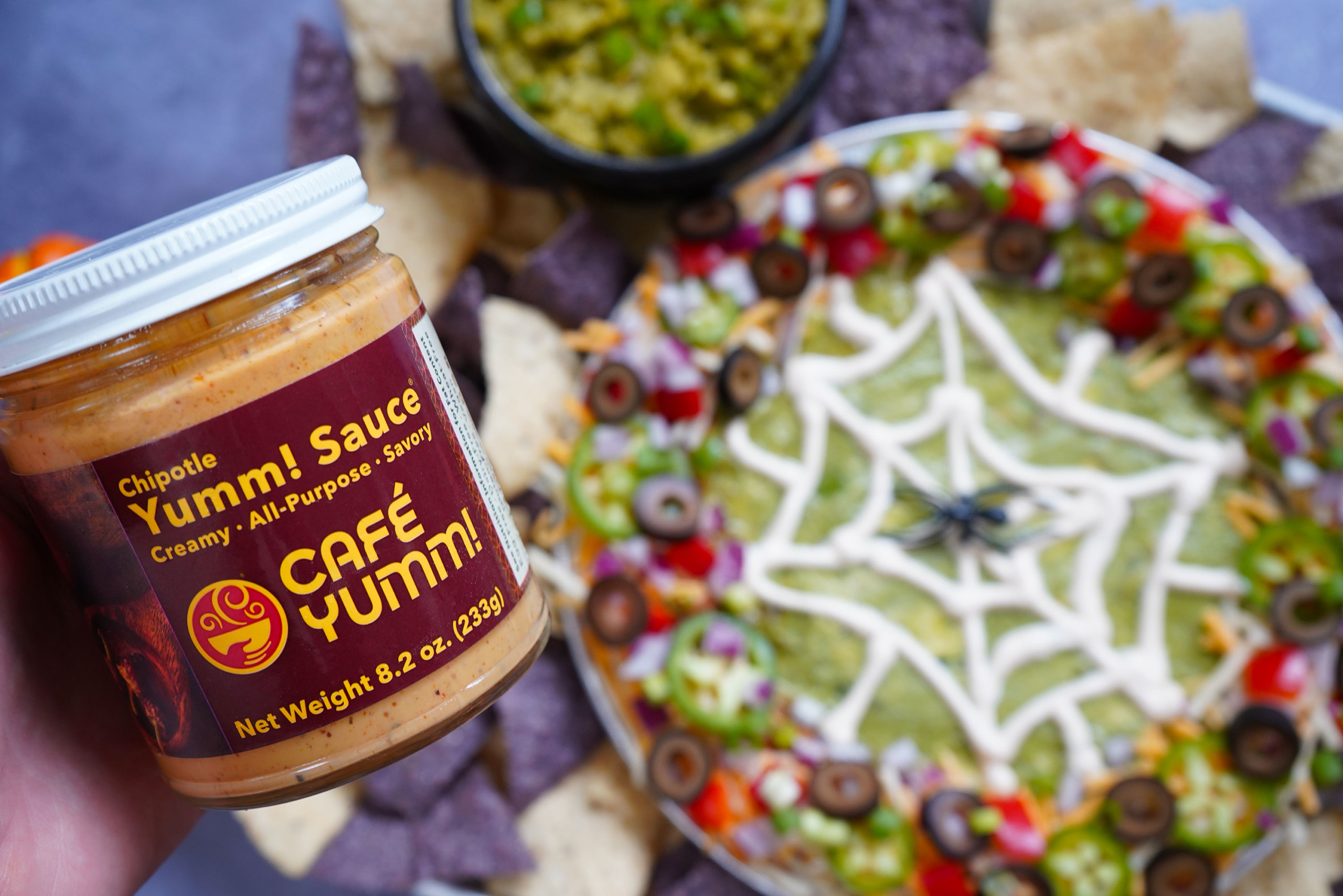 Saucy Spider 7-Layer Dip Recipe
Prep Time: 20 min. 
Makes one 9-inch pie pan.
Ingredients
15 oz can of refried beans
1 1/2 cups sour cream
1/2 cup Chipotle Yumm! Sauce
8 oz container of guacamole
shredded cheddar cheese
red salsa
diced red onions, tomatoes, scallions
sliced black olives and jalapenos (fresh or pickled)
1 tsp chili powder
1 tsp cumin powder
1 tsp oregano
juice from 1/2 a lime
Directions
Mix spices into the refried beans until smooth.
Mix the sour cream, Yumm! Sauce, and lime juice together.
Using a silicone spatula, spread the beans into the bottom of a pie pan and up the sides.
Spread 1 3/4 cups of the Yumm! Sauce and sour cream mixture on top of the beans, reserving a 1/4 cup for the spiderweb.
Next, gently spread the guacamole layer on top. (It can be helpful to mix it up in a bowl first to loosen and smooth out the texture so it spreads more easily.)
Sprinkle shredded cheese around the edges of the pan.
Top the cheese with the diced onions, tomatoes, scallions, olives, and jalapenos.
Fill a pastry bag (or a plastic bag with one corner tip cut off) with the remaining Yumm! Sauce mixture.
To create the spiderweb, draw one vertical line in the middle from top to bottom. Then draw an X through the middle of that line from edge to edge. Draw curved arch lines to connect the straight lines. Do your best and have fun! It doesn't have to be perfect.
Serve with blue and white corn chips, carrots, bell peppers, celery sticks, and your favorite salsa for dipping.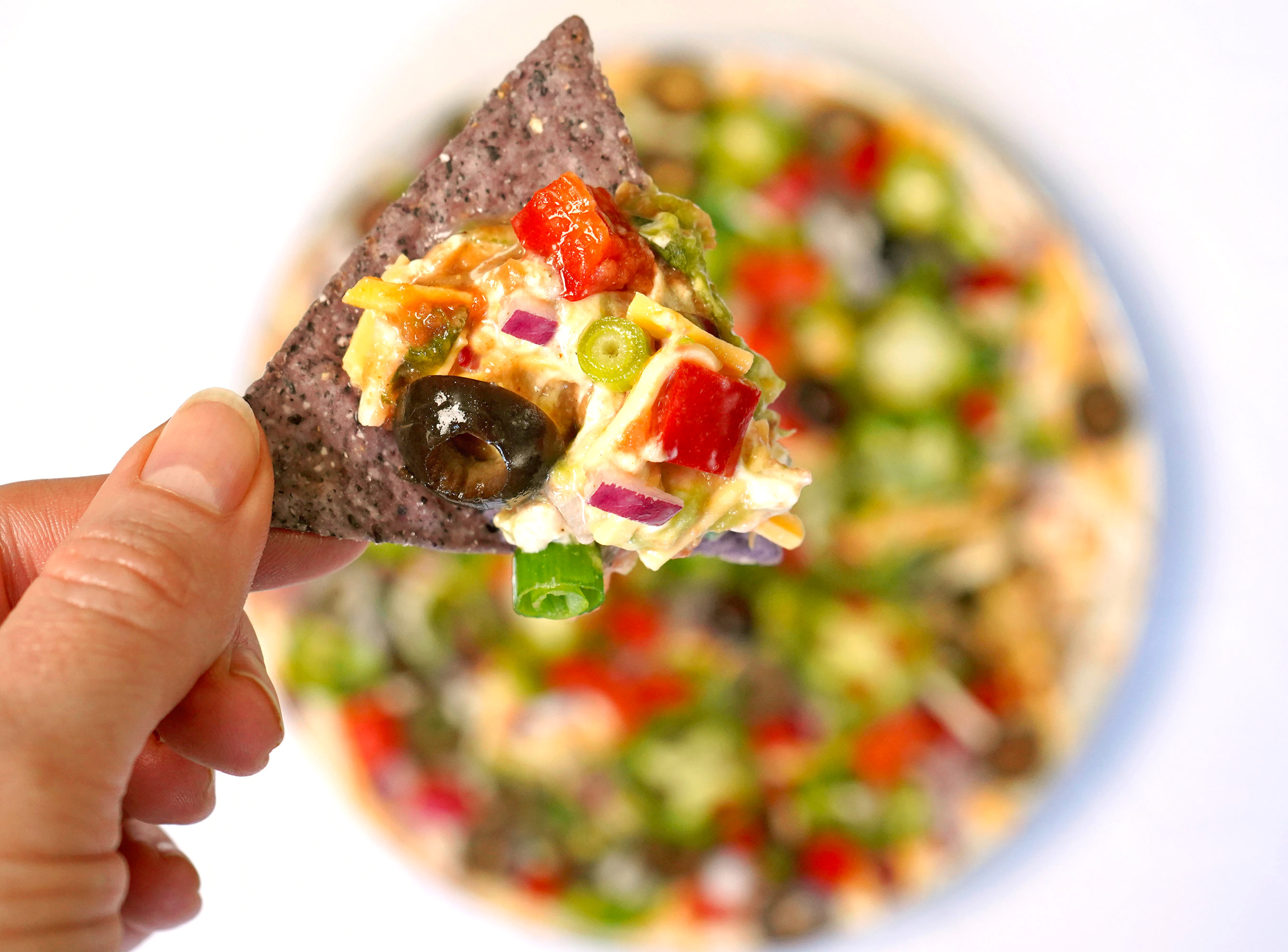 You can find Yumm! Sauce for this wonderfully creepy party dip in grocery stores, at all Cafe Yumm! restaurants, or you can order online here.
Enjoy!