2019-08-06
Chili-Stuffed Avocado Recipe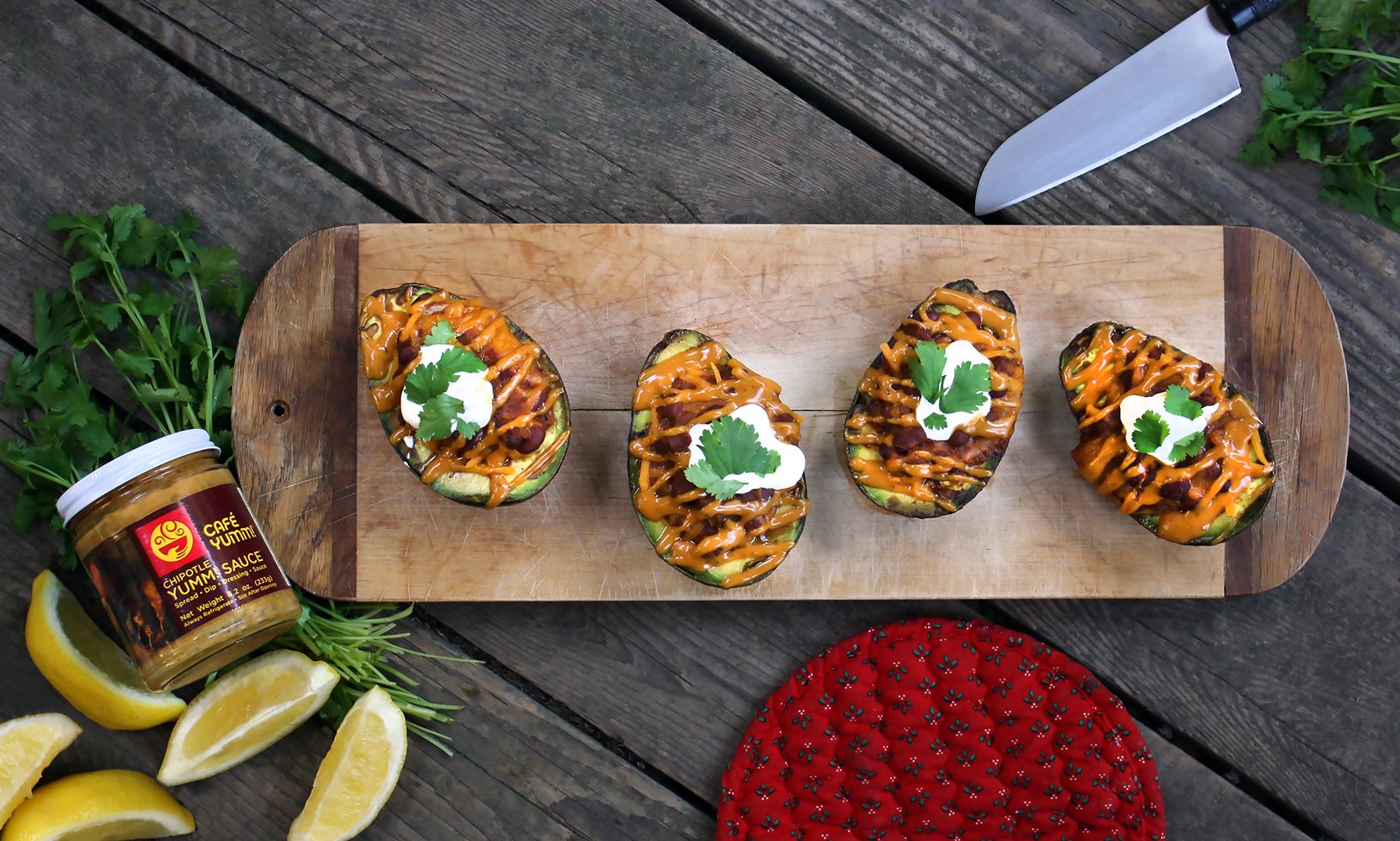 Have you tried grilled avocados?
A light brush of olive oil, a spritz of citrus, and a fiery kiss from the grill gives this creamy fruit a little smokiness that tastes amazing with chili. These single-serving avocado boats can be filled with lots of fun toppings, but a simple can of your favorite chili, a sprinkle of melty cheese, and Chipotle Yumm! Sauce® come together to create a true winner.
Toss a few avocados on the grill at your next cookout, drizzle Yumm! Sauce on top, and serve with tortilla chips for a unique treat. You can also scoop this stuffed delight onto a bed of rice or a green salad to make a hearty meal. Grilled avocados can even be mashed with Yumm! Sauce and spread on crusty toast. Endless deliciousness!
Chipotle Chili-Stuffed Grilled Avocados
Ingredients
Serves 4
• 2 large avocados, cut in half and pitted
• 1 tbsp olive oil
• 1/2 a lemon
• salt and pepper
• 1 – 15 oz can of chili, use this recipe, or a large Chipotle Chili to go from Café Yumm! restaurants
• Chipotle Yumm! Sauce
• shredded cheddar cheese
• sour cream
• cilantro
Directions
1. Warm the chili in a pot over medium heat.
2. Prepare the grill for medium-high heat. Mix the olive oil and lemon juice together. Brush avocado halves lightly with the marinade and season with salt.
3. Gently place avocados cut side down on a medium-hot grill with the lid open for 2-4 minutes. Look for grill marks and light charring in a few spots. The avocados should be warm but not mushy.
4. Remove from the grill and season with more salt, lemon juice, and pepper.
5. Spoon hot chili into the cavity of each avocado and top with cheese, Chipotle Yumm! Sauce, sour cream, and cilantro.
Enjoy!
The post Chili-Stuffed Avocado Recipe first appeared on Café Yumm!.