2019-06-09
Garlicky Pasta Salad Recipe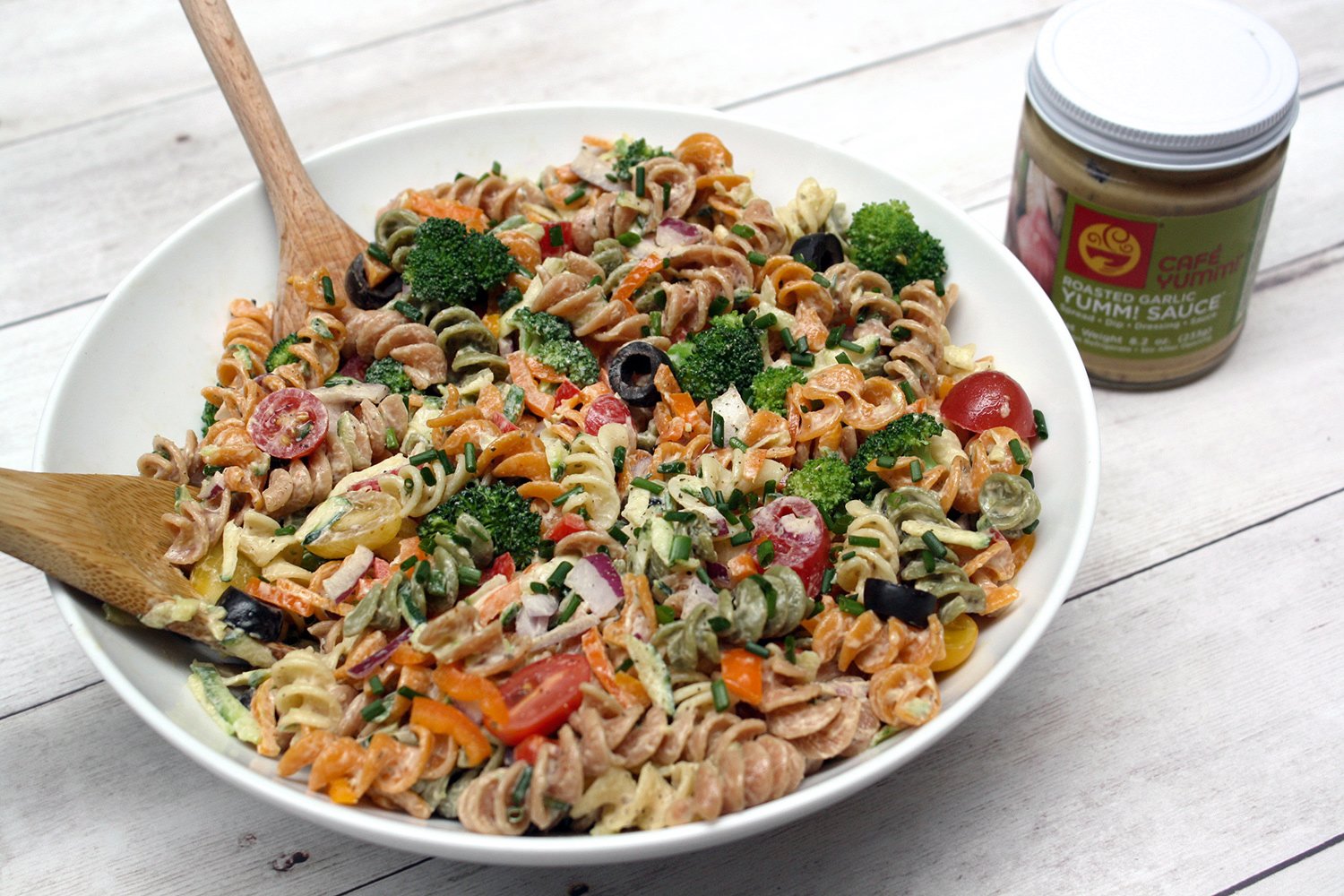 Summer is here and that means picnics, campouts, and pasta salad! With an abundance of crisp garden veggies begging to be shared, this classic recipe is the perfect way to showcase all of the bounty in one crowd-pleasing dish. Friends and family will quickly pile scoops of this creamy delight onto their plates – especially when you tell them it's made with Roasted Garlic Yumm! Sauce® instead of mayonnaise.
Easy to whip up and endlessly versatile, the humble pasta salad becomes an extra special experience with Yumm! Sauce®. This recipe is vegetarian, vegan-friendly, and can be made with gluten-free noodles if desired. You can also add some feta or mozzarella cheese, shredded chicken, canned tuna, or any other ingredient that inspires your creativity in the kitchen.
Garlic Yumm! Pasta Salad
Ingredients
Serves 8
• 1 pound package of veggie spiral pasta
• 1 jar of Roasted Garlic Yumm! Sauce
• 1 medium zucchini, shredded
• 1 medium head of broccoli, cut into florets and lightly steamed
• 1 red bell pepper, diced
• 1/2 red onion, diced
• 10-20 cherry tomatoes, halved
• 1 cup sliced black olives, strained
• 1/2 cup chopped chives or green onion
• salt and pepper to taste
Directions
1. Cook pasta according to directions on the package. Strain, rinse with cold water, and allow to cool completely.
2. Mix 1 jar of Roasted Garlic Yumm! Sauce into the pasta and stir well.
3. Add all of the vegetables and lightly toss.
4. Season with salt and pepper to taste.
5. Cover and keep refrigerated until served.
Enjoy!
The post Garlicky Pasta Salad Recipe first appeared on Café Yumm!.