2020-06-12
Loaded Baked Potatoes Recipe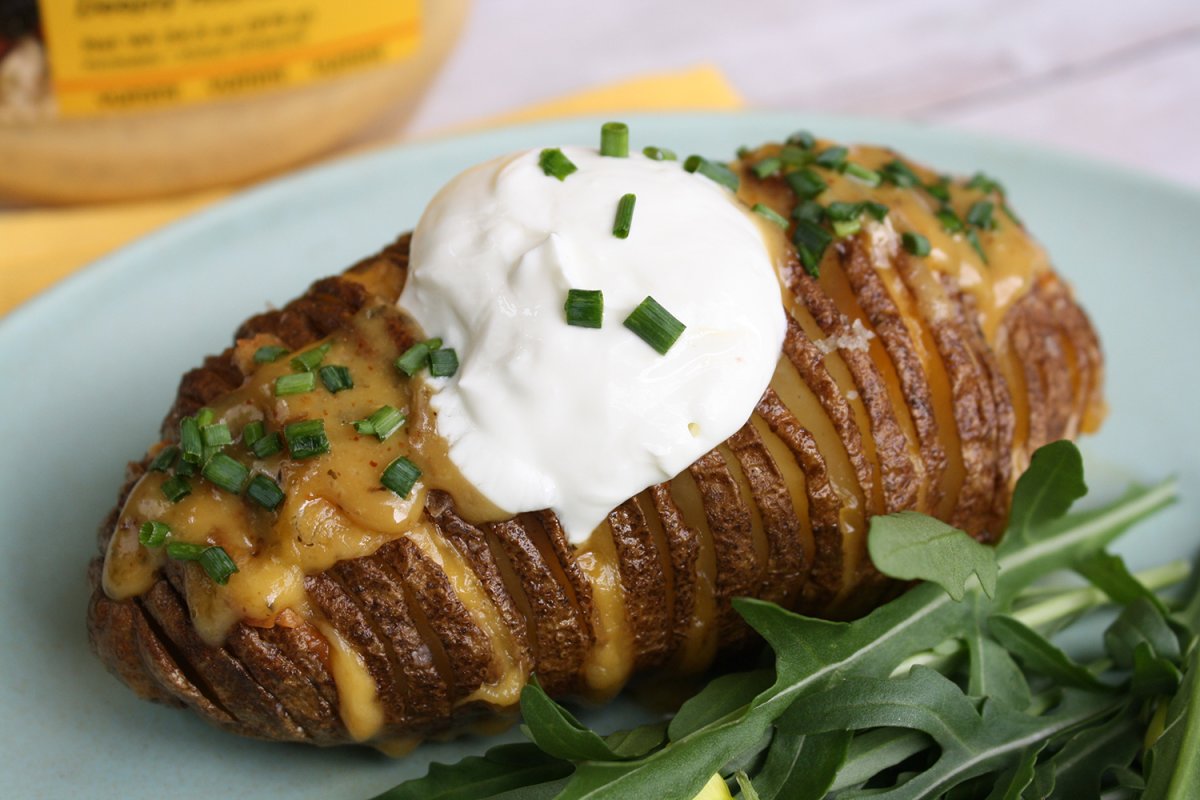 Golden skin on the outside, tender on the inside, and topped with all of your favorite fixings, loaded baked potatoes are an easy go-to meal any night of the week. These tasty tubers are also a good source of vitamins and minerals, such as potassium, vitamin C, and folate, making them a nourishing, whole-food choice.
If you want to take this classic to the next level, create a "wow" moment with this simple Hasselback slicing technique. Each cut allows you to stuff your loaded baked potatoes with even more deliciousness.
Our recipe uses sliced cheese, sour cream, and a drizzle of our famous Original Yumm! Sauce® (found in Café Yumm! restaurants, for order by mail, and in over 190 grocery stores) garnished with a sprinkle of chives.
A fun idea is to set up a "baked potato bar" with additional ingredient options like salsa, chili, steamed broccoli, olives, jalapenos, cilantro, and sliced green onions so everyone can top their own Yumm! potato.
Yumm! Loaded Baked Potatoes
Serves 3 to 6
Ingredients
• 3 medium-sized Russet potatoes
• 3 tbsp olive oil
• 1 tbsp butter
• salt and pepper
• sliced cheddar or pepper jack cheese
• Original Yumm! Sauce®
• sour cream
• chives
Directions
1. Preheat the oven to 450 degrees. Line a baking sheet with foil and grease with cooking spray or brush lightly with oil.
2. Using a sharp knife, carefully make thin cuts (about 1/8 inch apart) across each potato. Be sure to cut only 2/3 of the way down – not all the way through the potatoes.
3. Melt the butter and mix with the olive oil. Drizzle all over the potatoes to coat them, making sure to get the oil mixture into the sliced sections.
4. Place the potatoes cut-side-up on the baking sheet and sprinkle generously with salt and pepper.
5. Bake in the oven for 30 minutes. Rotate the pan and bake for another 30 minutes. Remove and allow to cool for about 5 minutes or until they can be handled.
6. Stuff cheese into each slice and return to the oven for 5 minutes or until the cheese is melted and bubbling.
7. Remove from the oven and top with Original Yumm! Sauce, sour cream, and chives. Serve warm.
Enjoy!
The post Loaded Baked Potatoes Recipe first appeared on Café Yumm!.