2020-11-11
Movie Night Popcorn Recipe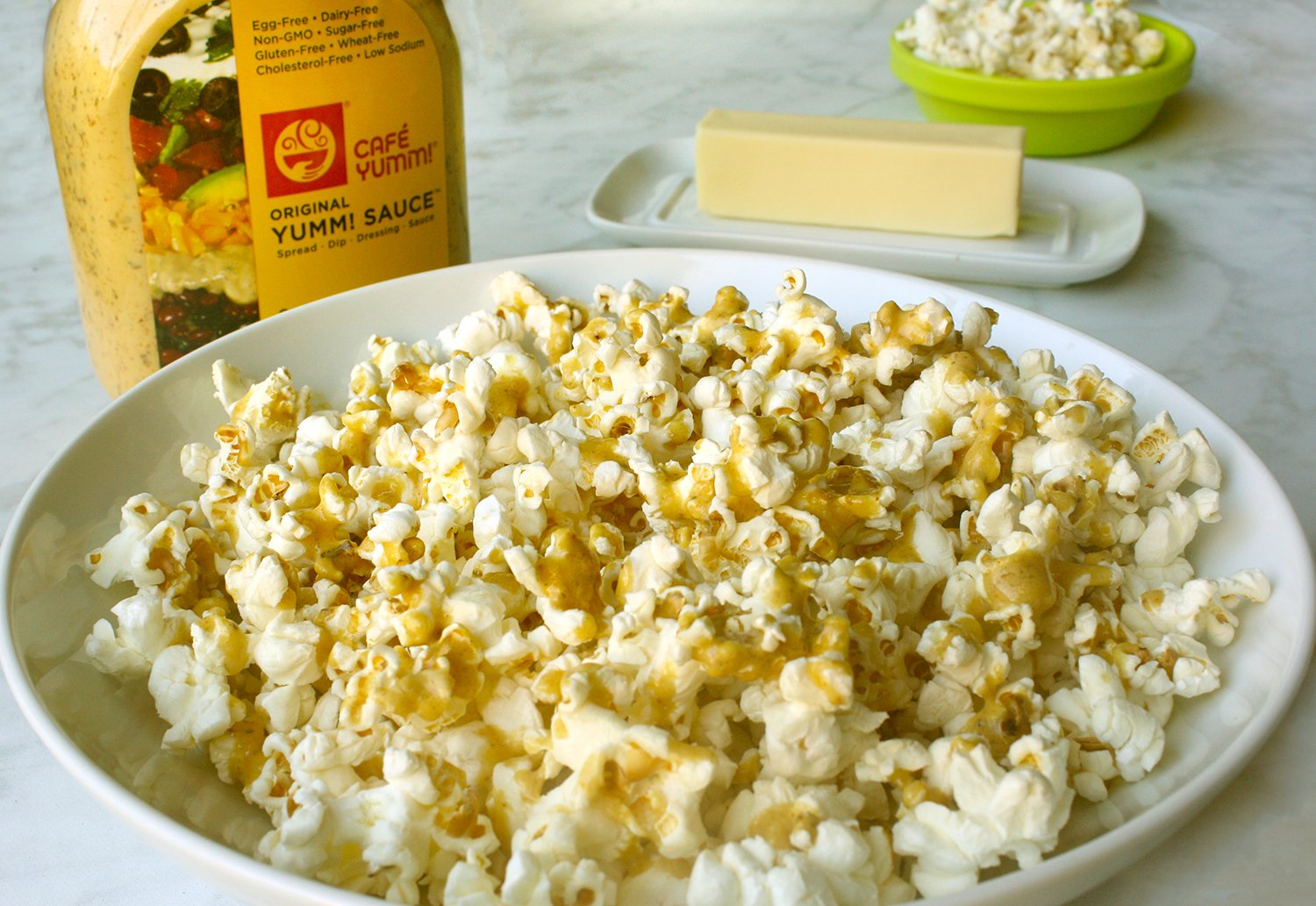 Get ready to cozy up on the couch with this deliciously nourishing snack. We're taking movie theater-style popcorn to the next level with this amazing Yumm! Sauce® drizzle recipe.
Here in the Northwest, we LOVE the savory, umami flavor of nutritional yeast sprinkled on popcorn. This dairy-free ingredient makes a great cheese alternative for vegans and has become a popular add-on in many independent movie theater lobbies. It's also one of the elements that makes Yumm! Sauce so uniquely tasty.
So, we thought, why not make a buttery popcorn topping with Yumm! Sauce?
Did you know that popcorn is a whole grain that's high in fiber? It's a great choice when the craving hits for something satisfying to munch on, and this gluten-free treat can be prepared in so many fun ways.
Adding a flavorful burst of Original, Roasted Garlic, or Chipotle Yumm! Sauce is our new favorite way to enjoy this classic good-for-you snack.
Yumm! Buttered Popcorn
Ingredients
• 1/2 cup popcorn kernels
• 1/4 cup Yumm! Sauce®
• 1/4 cup butter (or olive oil for a vegan option)
• fine sea salt to taste
Directions
1. Using the method of your choice, pop the popcorn kernels on the stovetop with olive oil or in an air popper.
2. Gently melt butter (or warm olive oil) in a pot over medium heat.
3. Remove from heat and add Yumm! Sauce to the melted butter. Mix well until combined.
4. In a large pot, drizzle the buttery Yumm! Sauce topping over popcorn, cover with a lid, and shake.
5. Salt to taste, shake once more, and enjoy!
The post Movie Night Popcorn Recipe first appeared on Café Yumm!.