2019-11-08
Oven Roasted Veggies Recipe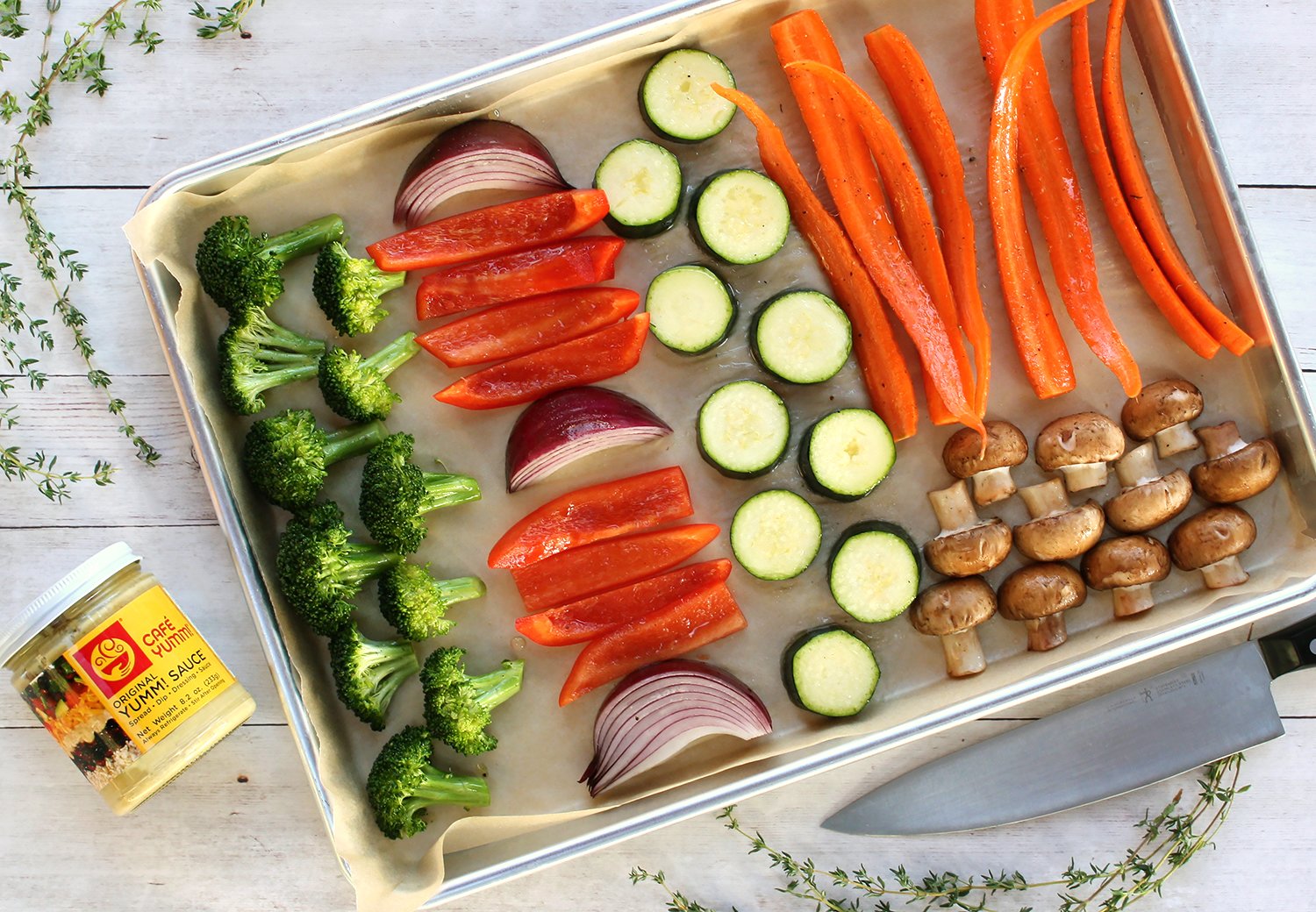 The aroma of perfectly caramelized vegetables just pulled out of a hot oven invites a wonderful sense of comfort. Celebrating the seasonal shift from cool, crisp salads to warm, baked dishes, roasting your veggies is a simple classic that always delights. This nourishing recipe uses Original Yumm! Sauce® as a basting marinade to easily transform your typical roasted vegetables into something truly special. Your family will love this recipe for special holiday meals!
Feel free to experiment with a combination of your favorite veggies, and make sure to keep size and moisture content in mind as you cut them to ensure even roasting. Selecting a rainbow variety of root vegetables, mushrooms, squashes, and onions will entice your family to pile their plates with plant goodness thanks to the gorgeous visual charm.
Yumm! Roasted Veggies
Ingredients
• 1 jar of Original Yumm! Sauce®
• 8 carrots cut in half lengthwise
• 1 zucchini cut into ½-inch rounds
• 1 red onion cut into quarters with skin removed
• 1 head of broccoli cut into florets
• 1 red bell pepper cut into 1-inch strips
• 1 handful of baby Portobello mushrooms cut in half
• olive oil
• salt and pepper
• optional: fresh thyme and rosemary
Directions
1. Preheat oven to 400 degrees.
2. Cut all of the vegetables.
3. Toss all veggies with olive oil until lightly coated.
4. Season with a sprinkle of salt and pepper.
5. Place in a single layer on a baking pan.
6. Roast in the oven for 30 minutes.
7. Remove from the oven and brush on a layer of Original Yumm! Sauce® to cover each piece. You can also toss the veggies in a bowl with Yumm! Sauce until well-coated.
8. Roast for 10 additional minutes.
9. Remove from the oven and serve immediately with a garnish of freshly minced herbs sprinkled on top.
Enjoy!
The post Oven Roasted Veggies Recipe first appeared on Café Yumm!.