2020-02-10
Roasted Garlic Zoodles Recipe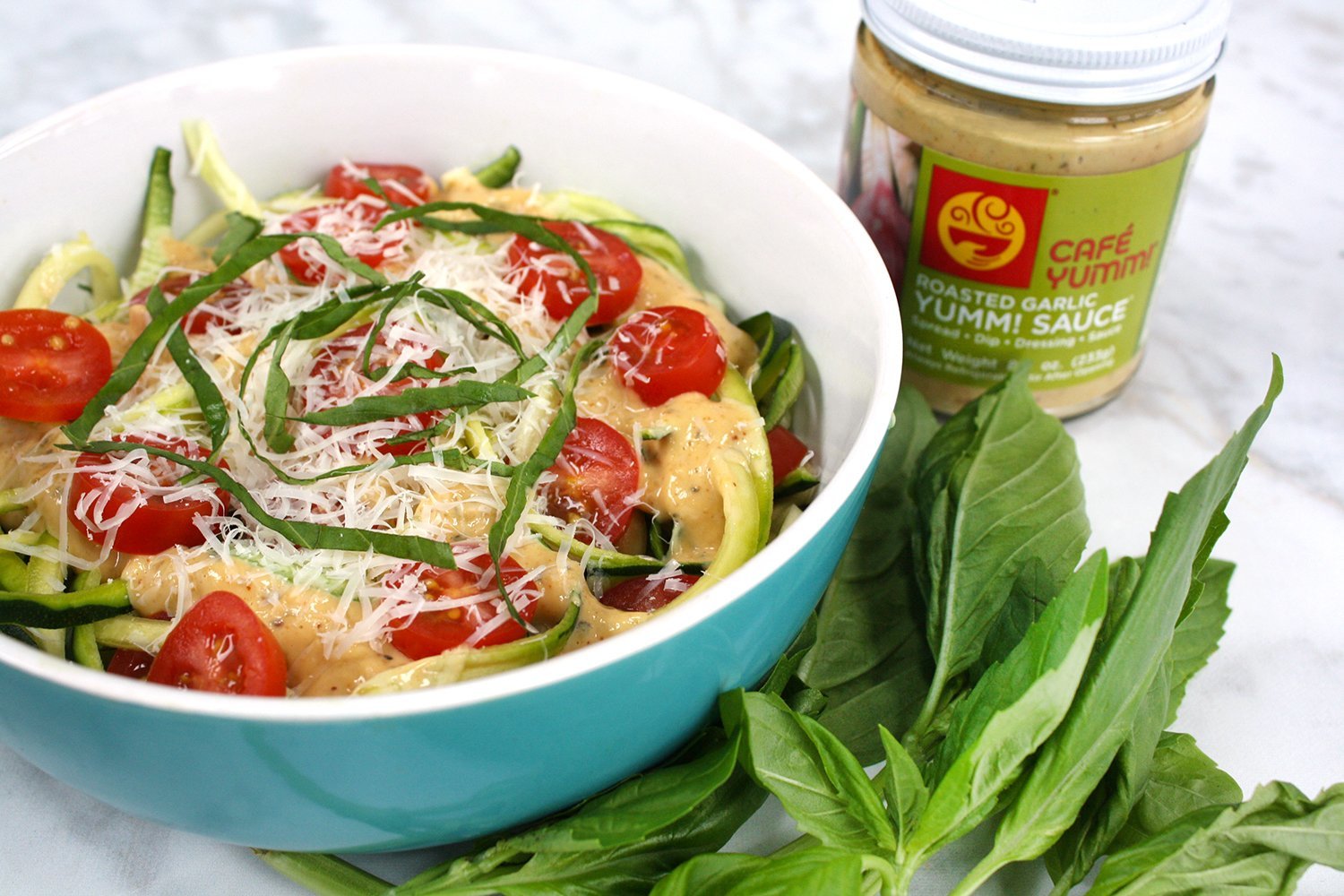 Making zucchini noodles or "zoodles" is an easy and satisfying way to get more veggies into your favorite pasta dish. Not only are they naturally gluten-free, vegan, and keto-friendly, the delicate flavor of these beautiful and tender green ribbons pairs nicely with a variety of sauces. Recipes ranging from a basic marinara to creamy alfredo will taste wonderful, but we love zoodles lavishly dressed with Roasted Garlic Yumm! Sauce®, juicy tomatoes, and fresh basil.
All you need to make these at home is a veggie spiralizer (which can be found for as little as $8), a julienne peeler, a mandolin, or very careful knife skills. Once the curly zoodles have been cut using your device of choice, they can be gently steamed, quickly blanched, or baked, but we prefer a light sauté in olive oil.
Simply toss with Yumm! Sauce for an instant side dish or you can add crumbled tempeh, chicken sausage, or lemon marinated fish for a protein boost. After the first bite, you'll want to spiralize this super simple crowd-pleaser for family meals all the time!
Garlic Yumm! Zoodles
Ingredients
• 2 tbsp Roasted Garlic Yumm! Sauce
• 4 medium zucchinis, unpeeled
• 2 cloves of garlic, peeled and minced
• 1 cup of ripe cherry tomatoes, quartered
• 1 bunch of fresh basil, cut into thin strips
• olive oil
• salt and pepper
• grated parmesan cheese
Directions
1. Slice or spiralize the whole zucchinis into noodle form. Cut the zoodles in half if they are longer than 12 inches.
2. Warm 1 tbsp of olive oil in a pan over medium-high heat.
3. Toss in the zoodles and saute for 1 minute.
4. Add garlic and season with a sprinkle of salt and pepper. Continue to toss and saute for another 2-3 minutes.
5. Once the zucchini noodles are bright green and beginning to soften (but not mush), remove from heat.
6. Stir in 2 tbsp of Roasted Garlic Yumm! Sauce until the zoodles are well-coated.
7. Add tomatoes, basil, and cheese.
8. Toss until all of the ingredients are evenly distributed throughout the zoodles.
9. Serve with another sprinkle of cheese on top.
Enjoy!
The post Roasted Garlic Zoodles Recipe first appeared on Café Yumm!.