2021-09-01
Smoky Chipotle Nachos Recipe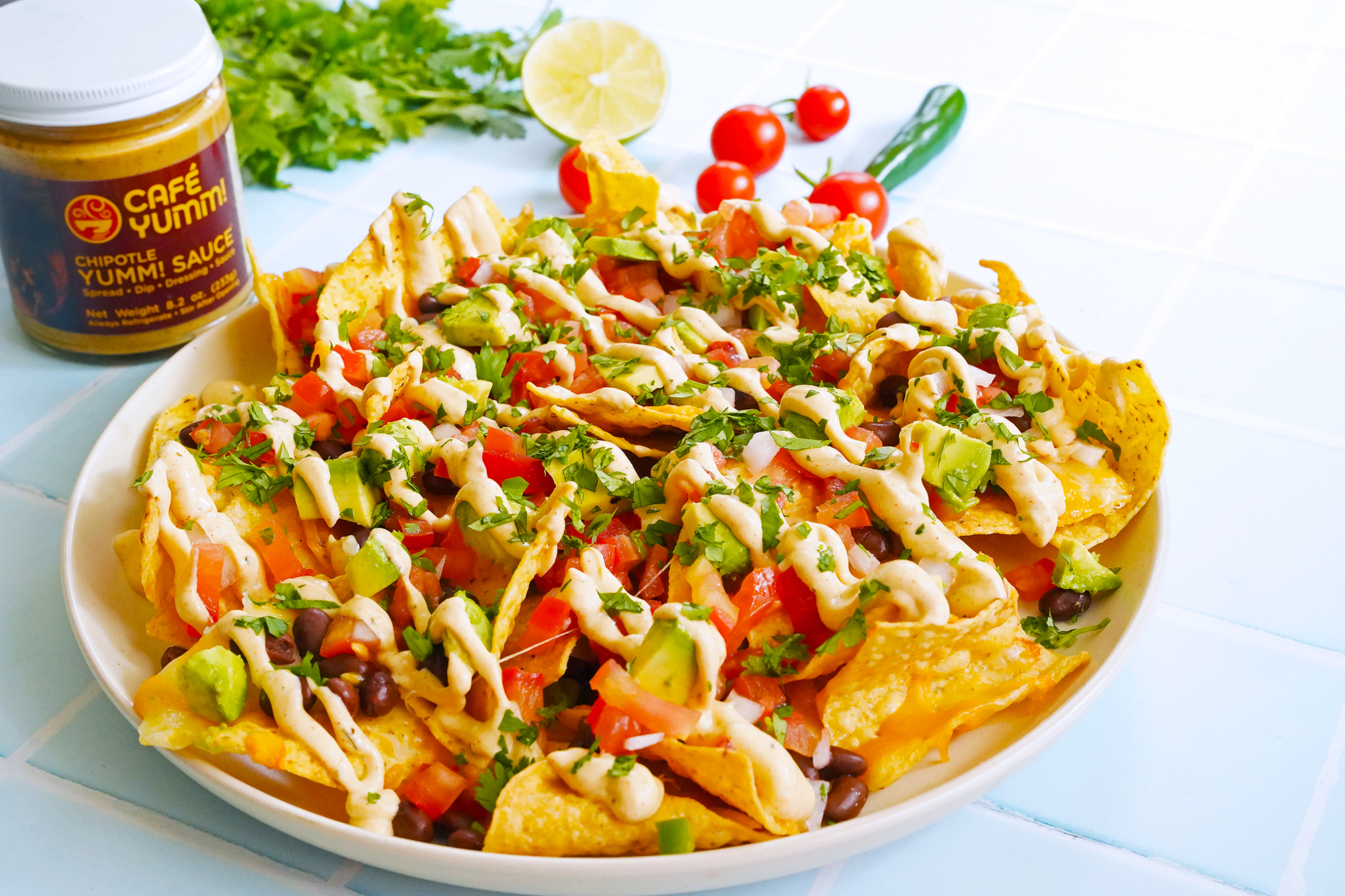 Who doesn't love nachos?
Crispy tortilla chips topped with gooey cheddar cheese, spicy black beans, fresh salsa, ripe avocado, sour cream, and aromatic cilantro will make the heart sing with delight. Adding our famous Chipotle Yumm! Sauce® transforms this delectable masterpiece into a little pile of heaven on a dinner plate.
Making nachos at home is so easy! Feel free to add grilled chicken, baked tofu, or tempeh crumbles for a protein boost.
Chipotle Yumm! Nachos
Prep Time: 5min.
Cook Time:  10min.
Ingredients
• corn tortilla chips (enough to cover a 9″ x 13″ baking sheet)
• 2 cups shredded cheddar cheese
• toppings of your choice: cooked black beans, diced onions, black olives, protein, and/or pickled jalapeños
• 1/4 cup of sour cream
• 1/4 cup Chipotle Yumm! Sauce
• 1/2 lime, juiced
• 1 avocado, diced
• fresh cilantro, chopped
Directions
Combine the Chipotle Yumm! Sauce, sour cream, and lime juice in a mixing bowl. Stir well and set aside.
Arrange chips in a single layer on a 9″ x 13″ baking sheet.
Sprinkle cheese, beans, and other toppings to cover the chips so each bite will be loaded with goodness.
Bake at 350 degrees for 5 minutes or just until the cheese melts and becomes bubbly.
Remove from the oven and drizzle the Yumm! Sauce mixture on top.
Add a layer of diced avocado and sprinkle cilantro over the nachos.
Top with salsa and a squeeze of lime juice.
Serve immediately and enjoy!
The post Smoky Chipotle Nachos Recipe first appeared on Café Yumm!.