2020-09-01
Special Burger Sauce Recipe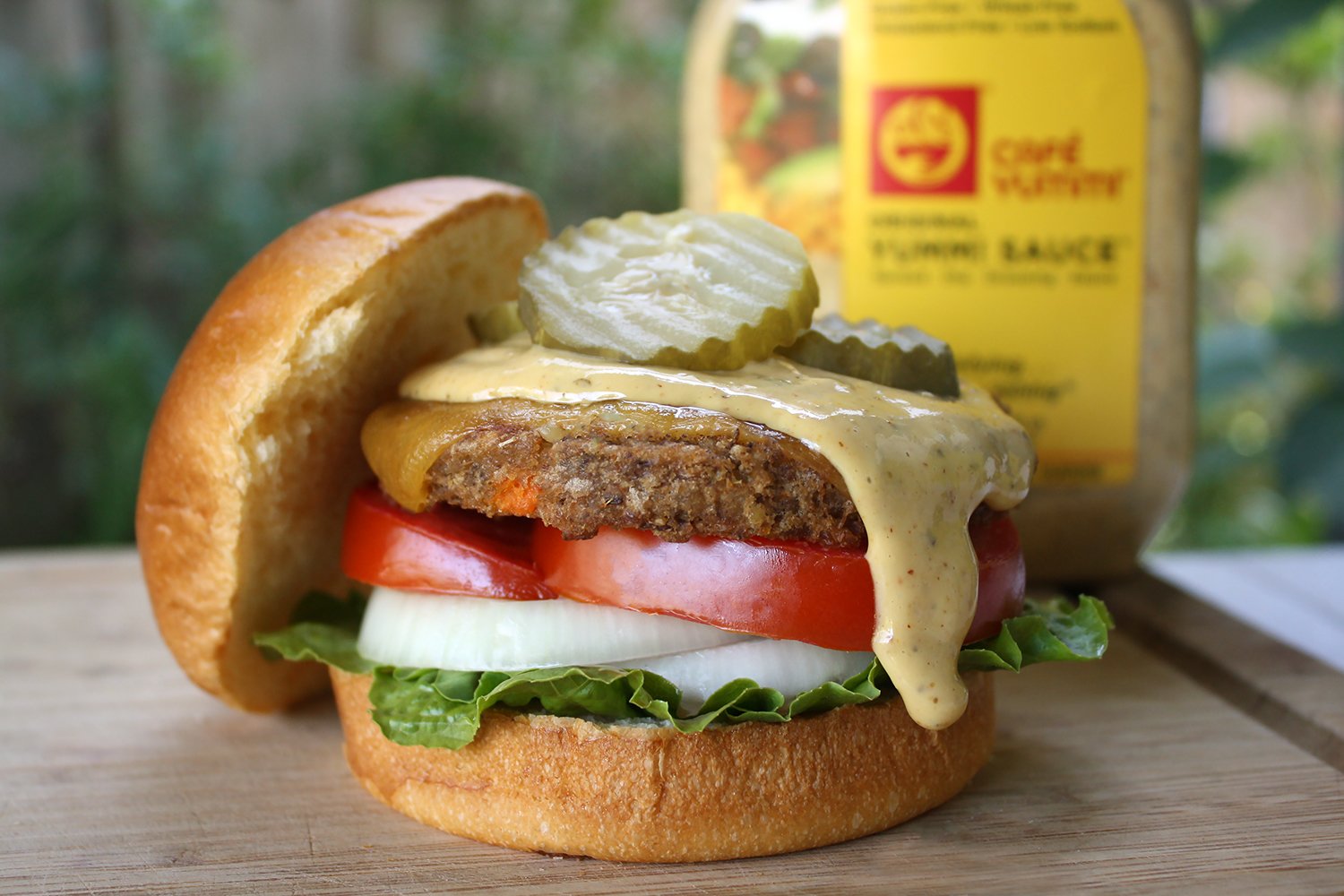 Fire up the backyard grill for burger night!
Who doesn't love slathering special sauce on a perfectly cooked patty stacked atop a bed of crisp veggies and a soft, toasty bun? If you're looking for a burger sauce that's more nourishing than the typical mayo and ketchup combo, try a dollop of Yumm! Sauce® for the win. It adds a fun new flavor experience for anyone who likes tangy, umami, savoriness.
All three varieties of our famous Yumm! Sauce – Original, Roasted Garlic, and Chipotle – make a tasty sandwich spread to go along with juicy tomatoes, fresh lettuce, spicy onions, crunchy pickles, and a slice or two of ripe avocado.
While a generous squeeze of Yumm! Sauce is a delicious addition straight from the bottle, it also makes a great base sauce for spice mix-ins. (See our list of ideas below for inspiration.) Plus, it can add a creamy element for vegans looking to transform their veggie burger into a truly out-of-this-world meal.
Whether you're going classic cheeseburger, black bean patty, or ground turkey, Yumm! Sauce is the all-purpose condiment of your burger-making dreams.
Yumm! Sauce Mix-in Ideas for Special Sauce Creations
Sweet Relish
2 tsp of relish
2 Tbsp of Yumm! Sauce
Minced Onions
1 tsp of minced onions
2Tbsp of Yumm! Sauce
Fresh Garlic
1 tsp of minced fresh garlic
2Tbsp of Yumm! Sauce
Hot Sauce
1 tsp of hot sauce
2 Tbsp of Yumm! Sauce
Smoked Paprika
1/2 tsp of paprika powder
2 Tbsp of Yumm! Sauce
Curry Spice
1/2 tsp of curry powder
2 Tbsp of Yumm! Sauce
Find all three flavors of Yumm! Sauce available for delivery or takeout at our restaurants, stocked in over 190 grocery stores, or buy online and have it shipped right to your door.
Share your recipes with us on Instagram @cafe_yumm!
Enjoy!
The post Special Burger Sauce Recipe first appeared on Café Yumm!.