2021-09-01
Spicy Jal-Ses Elote Recipe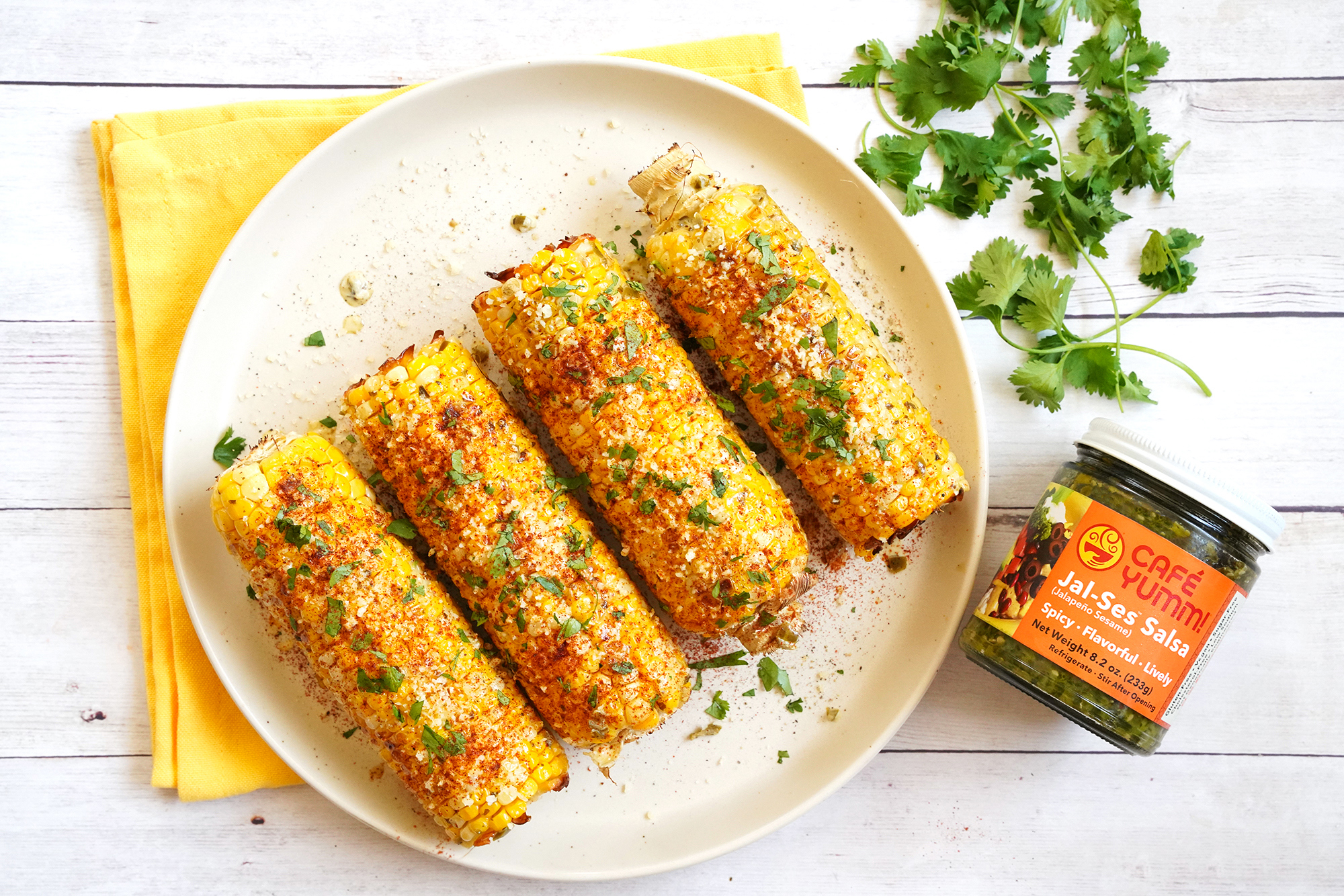 Looking for a way to spice up your corn on the cob? Try this easy elote recipe with a Yumm! twist.
Elote, the Spanish word for corncob, is an iconic street food that can be found at bustling markets, food stands, and town fairs across Mexico. This mouthwatering side dish pairs the sweetness of fresh corn with a creamy, salty, spicy dressing and a hint of bright citrus.
Often grilled until the corn kernels turn juicy and soft with a bit of char, the ears of corn can be steamed instead of grilled if you don't feel like firing up the coals. Once your corn is cooked through and still warm, simply slather with our special sauce below (yes, made with Jal-Ses™ Salsa!) and sprinkle with classic toppings to enjoy.

Jalapeño Sesame Elote Recipe
Prep Time: 10min.
Cook Time: 10min.
Ingredients
• 4 ears sweet corn, husks removed
• 1/4 cup butter
• 1/4 cup of sour cream
• 1/4 cup of mayonnaise
• 1 Tbsp soy sauce
• 1 Tbsp Jal-Ses™ Salsa from Café Yumm!
• 1/2 lime, juiced with lime zest
• 1/4 cup of cotija cheese
• fresh cilantro, chopped
• chili powder to taste
Directions
Combine the mayonnaise, sour cream, soy sauce, Jal-Ses™ Salsa, and lime juice in a mixing bowl. Stir well and set aside.
Grill or steam the corn, and roll the cooked ears in butter while still warm.
Coat each ear of corn with the creamy Jal-Ses mixture you previously set aside.
Sprinkle the corn with cilantro, crumbled cojita cheese, and chili powder to taste.
Squeeze a lime wedge over the corn and serve immediately.
The post Spicy Jal-Ses Elote Recipe first appeared on Café Yumm!.