2018-11-14
Spicy Lettuce Wraps Recipe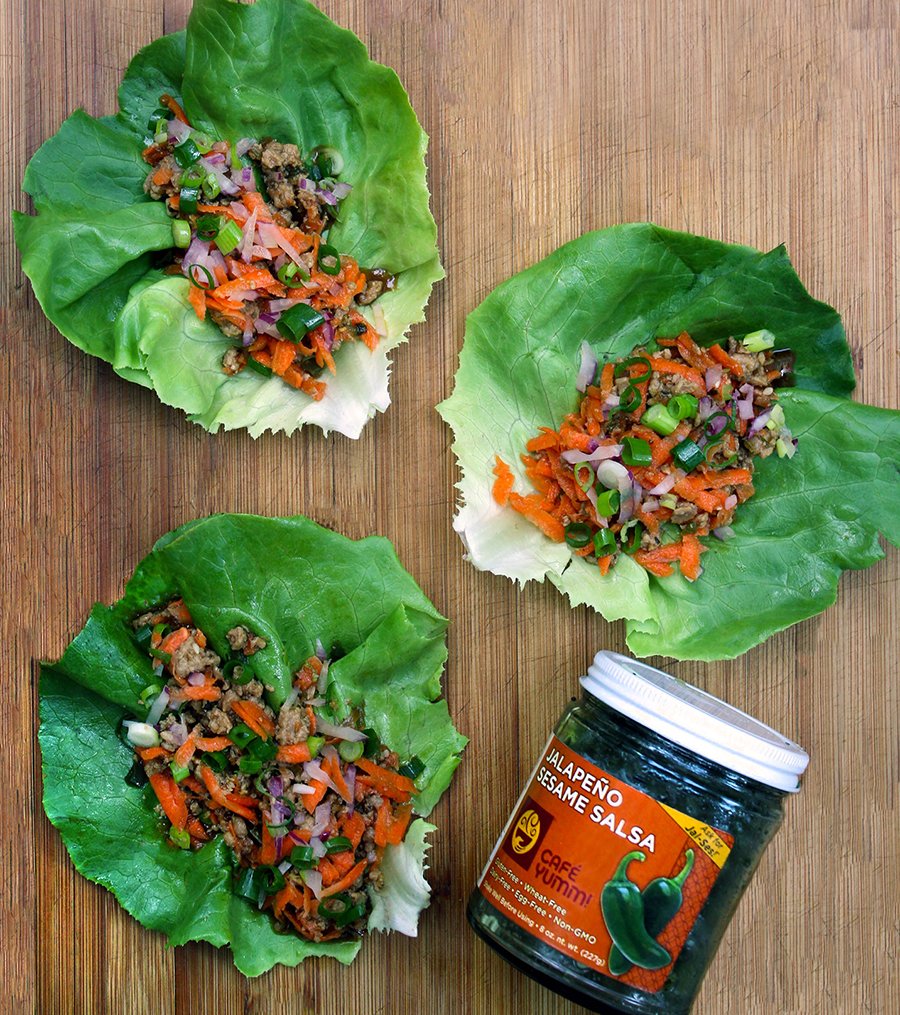 When you crave takeout but want a healthier meal at home, making a batch of stir-fry wraps is a quick and easy alternative. Inspired by a classic dish found in Laos and Thailand called larb or laab, this recipe is a simple combination of protein, veggies, and aromatic ginger kissed with honey, soy sauce, lime juice, and our spicy Jalapeño Sesame Salsa, which is available at Cafe Yumm!® restaurants. (Want to be in on our secret lingo? Ask for Jal-Ses™!) We're in love with this Yumm! spin on a worldwide favorite.
A nice substitute for noodles, bread, or tortillas, lettuce cups are the perfect handheld option for a variety of diets, including vegan and gluten-free. Fun for lunch, dinner, or party appetizers, lettuce leaves can be used to sandwich an endless array of culinary possibilities, like taco ingredients or a Mediterranean delight of hummus, olives, and feta. The crisp, cool, fresh leaves of romaine or butter lettuce make the best, tasty green wraps for this saucy mix of quick sautéed protein and veggies with a kick.
These beautiful wraps are so simple to make, yet deliciously nourishing. They will quickly become a go-to recipe that's easy to customize. We made this batch with chicken, but feel free to use any protein of your choice, like salmon, turkey, tofu, or tempeh.
Jalapeño Sesame Lettuce Wraps
Ingredients
• 1 tablespoon olive oil
• 1 pound ground chicken, tofu, or tempeh crumbles
• 1/2 cup thinly sliced red onion
• 1/2 cup soy sauce
• 1/2 cup honey
• 1 tablespoon grated fresh ginger
• 1 tablespoon minced fresh garlic
• 1 cup shredded carrot
• 1/2 cup sliced green onions
• 2 to 4 tablespoons Jalapeño Sesame Salsa from Cafe Yumm! restaurants
• juice from half a lime
• 1 head of lettuce (Bibb, Boston, Butter, or Romaine)
Directions
1. Heat olive oil in a pan. Sauté protein of choice and red onions until cooked through.
2. In a bowl, combine soy sauce, honey, ginger, and garlic. Stir well to create a sauce.
3. Pour sauce over the cooked protein and stir.
4. Mix the protein, carrots, and green onions together with the Jalapeño Sesame Salsa.
5. Squeeze fresh lime juice into the mixture and stir.
6. Spoon mixture into lettuce leaves.
Enjoy!
Jalapeño Sesame Salsa can be found at any of our Café Yumm! restaurants.
The post Spicy Lettuce Wraps Recipe first appeared on Café Yumm!.