2021-04-07
Spicy Peanut Noodle Recipe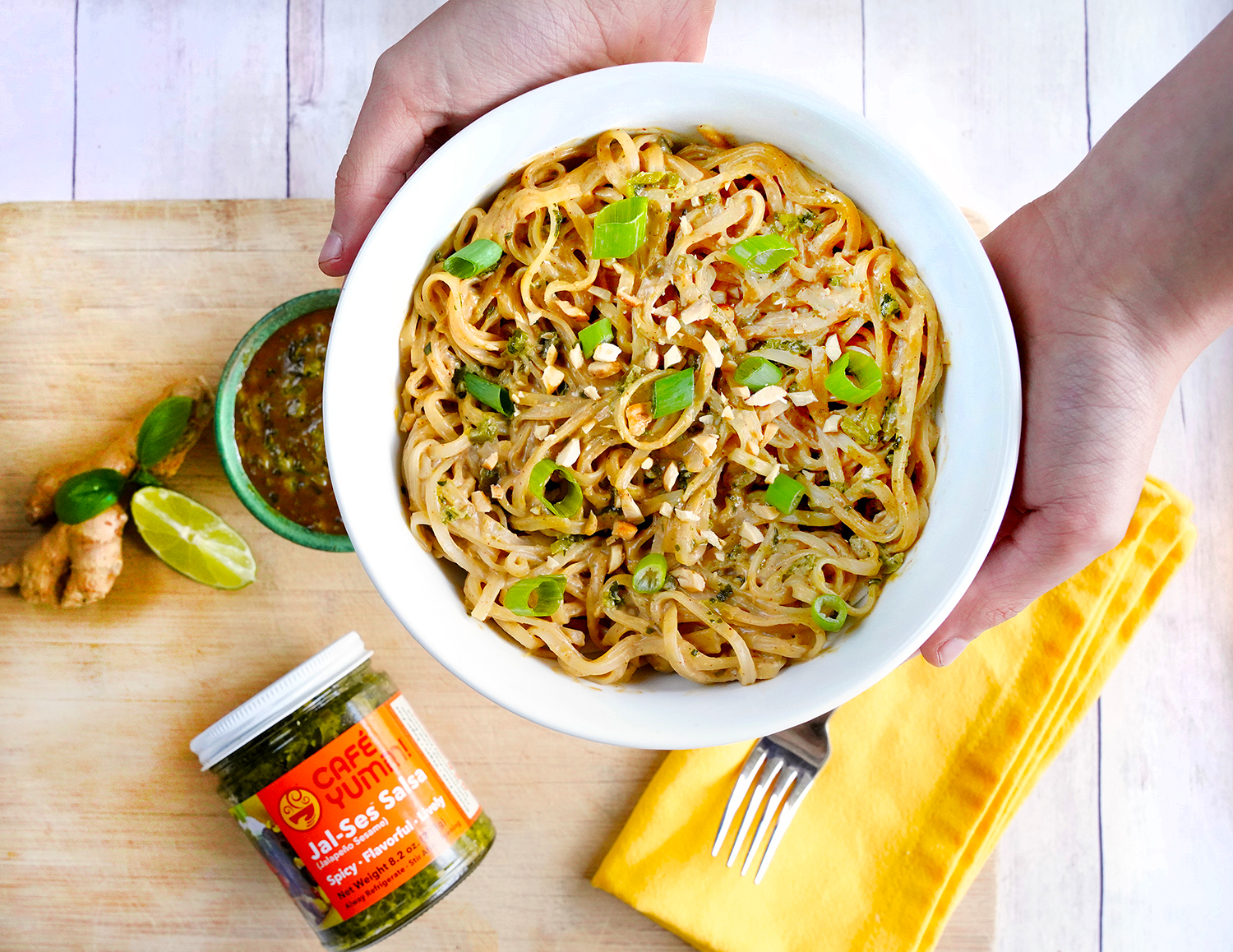 A fan recently told us how much they love to make peanut butter sandwiches with a dollop of our spicy Jalapeño Sesame Salsa instead of traditional jelly. (Yes, really!) That fun, quirky idea inspired us to imagine the unique combination of cilantro, sesame seeds, garlic, fruity jalapeños, and peanuts all mixed together.
Then the idea hit! Our one-of-a-kind Jal-Ses™ Salsa would be amazing in a Thai-style peanut sauce.
This easy-to-make peanut sauce recipe is well balanced with a little bit of heat, a little bit of sweetness, bright sour notes, fresh herbs, and creamy, nutty deliciousness. Great for whipping up a quick noodle dish for dinner, you can also use this sauce to make chicken satay, baked tofu, or veggie-filled salad rolls.
Spicy Peanut Noodles
Prep Time: 15min.
Cook Time: 25min.
Ingredients
Spicy Peanut Sauce
• 1/4 cup unsweetened peanut butter
• 1/4 cup coconut milk
• 3 tablespoons soy sauce
• 2 tablespoons Jal-Ses™ Salsa from Café Yumm! restaurants (or find in grocery stores near you!)
• 1 tablespoon rice wine vinegar
• 1 tablespoon honey
• 1 tablespoon sesame oil
• 1/2 teaspoon fresh grated ginger
•  juice from 1 lime
Noodles
• 8oz package of rice noodles
• green onion
• chopped peanuts
• fresh basil
• optional additions: broccoli, carrots, cabbage, tofu, or chicken
Directions
To make the sauce, whisk all ingredients together with a fork until well combined. (You can add a little more vinegar or warm water if the consistency seems too thick.)
Cook rice noodles according to the package. While still warm, toss freshly boiled and well-drained rice noodles with the peanut sauce.
Top with chopped peanuts, green onions, and basil.
Feel free to add a variety of veggies and proteins to the bowl, like steamed broccoli, shredded carrots, purple cabbage, grilled chicken, or baked tofu.
Notes
This spicy peanut sauce is also tasty on zucchini noodles (aka zoodles) for a grain-free option. Allergic to peanuts? Try using almond or cashew butter instead.
Enjoy!
The post Spicy Peanut Noodle Recipe first appeared on Café Yumm!.