2021-09-01
Spicy Teriyaki Quinoa Recipe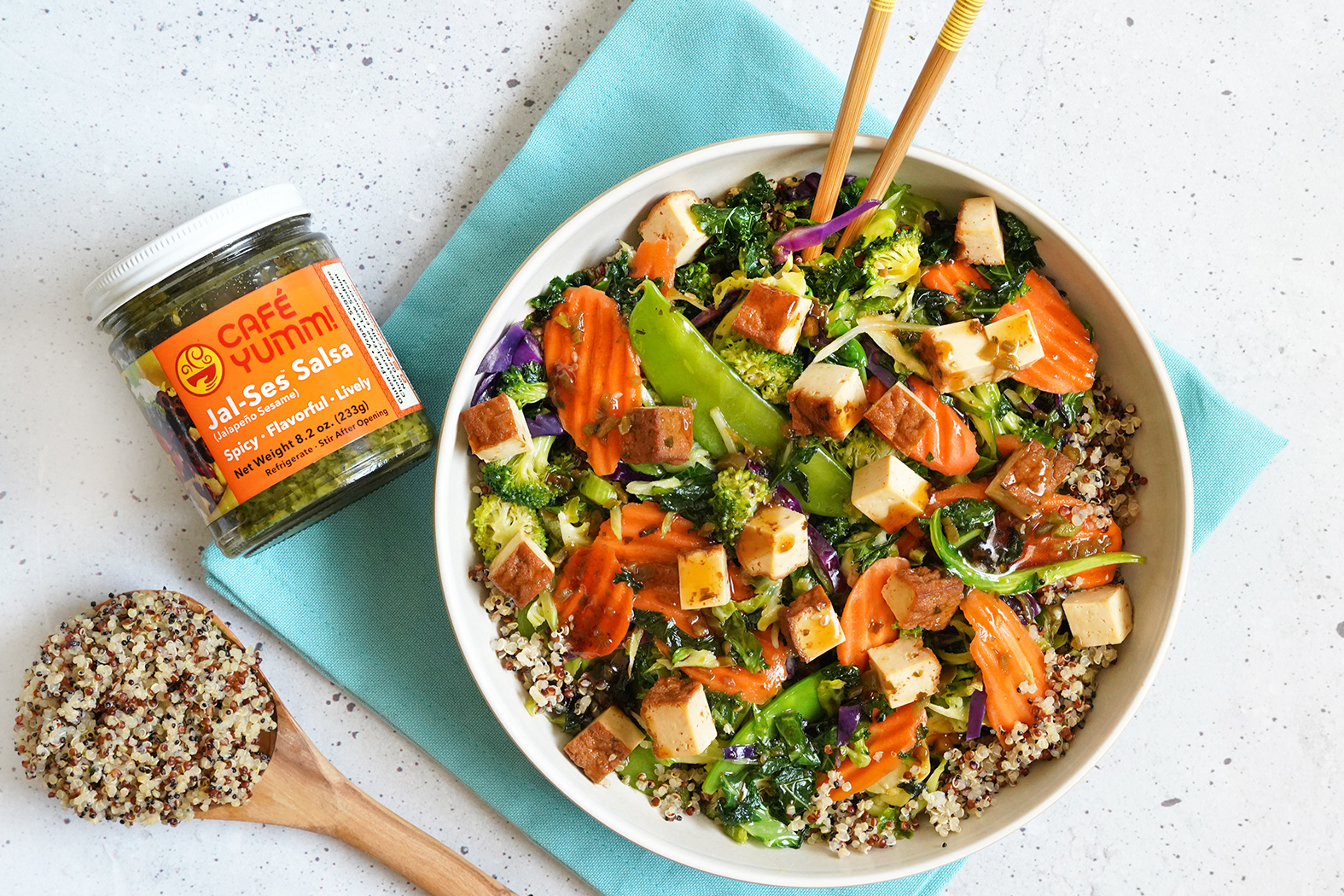 Need a quick and easy weekday dinner that's also nourishing and delicious? Try this gorgeous stir fry made with quinoa and our famously spicy Jal-Ses™ Salsa!
An ancient grain from the Andean region of northwestern South America, quinoa has become a popular ingredient today thanks to its subtle nutty flavor and no-fuss preparation. It's also super versatile and can be used like rice in everything from soups and casseroles to burritos and sushi. You can find quinoa next to dry rice at most grocery stores.
One of our favorite ways to use quinoa is in stir fries. All you need is a rainbow of chopped vegetables, any protein, your favorite teriyaki sauce, and Jal-Ses™ Salsa.
This simple recipe packs a ton of flavor, fiber, and protein. Plus, it makes a wonderfully healthy leftover lunch!

Spicy Teriyaki Quinoa Stir Fry
Prep Time: 10min.
Cook Time: 35min
Ingredients
Stir Fry
• 6 cups chopped veggies: broccoli, onions, carrots, kale, snow peas, purple cabbage, etc.
• 2 Tbsp sesame oil
• 4 cups cooked quinoa, prepared according to package
• 1lb prepared protein of choice: tofu, chicken, tempeh, etc.
• salt & pepper
Sauce
• 1.5 cups teriyaki sauce
• 1/4 cup Jal-Ses™ Salsa from Café Yumm!
• 1/2 lime, juiced
Directions
Warm a large pan or wok over medium-high heat and add 1 tablespoon of sesame oil.
Once the oil is hot, add protein, season with salt and pepper, and sauté until cooked through and browned.
Remove from pan and set aside.
In the same pan, heat 1 tablespoon of oil and add chopped veggies.
Stir-fry until the veggies are tender but still have a bit of crispness.
Remove from heat and add the protein to the veggies.
In a bowl, mix teriyaki sauce, Jal-Ses™ Salsa, and lime juice together.
Pour the sauce over the stir fry.
Serve with fluffy steamed quinoa.
Enjoy!
The post Spicy Teriyaki Quinoa Recipe first appeared on Café Yumm!.