2019-04-20
Yumm! Breakfast Taco Recipe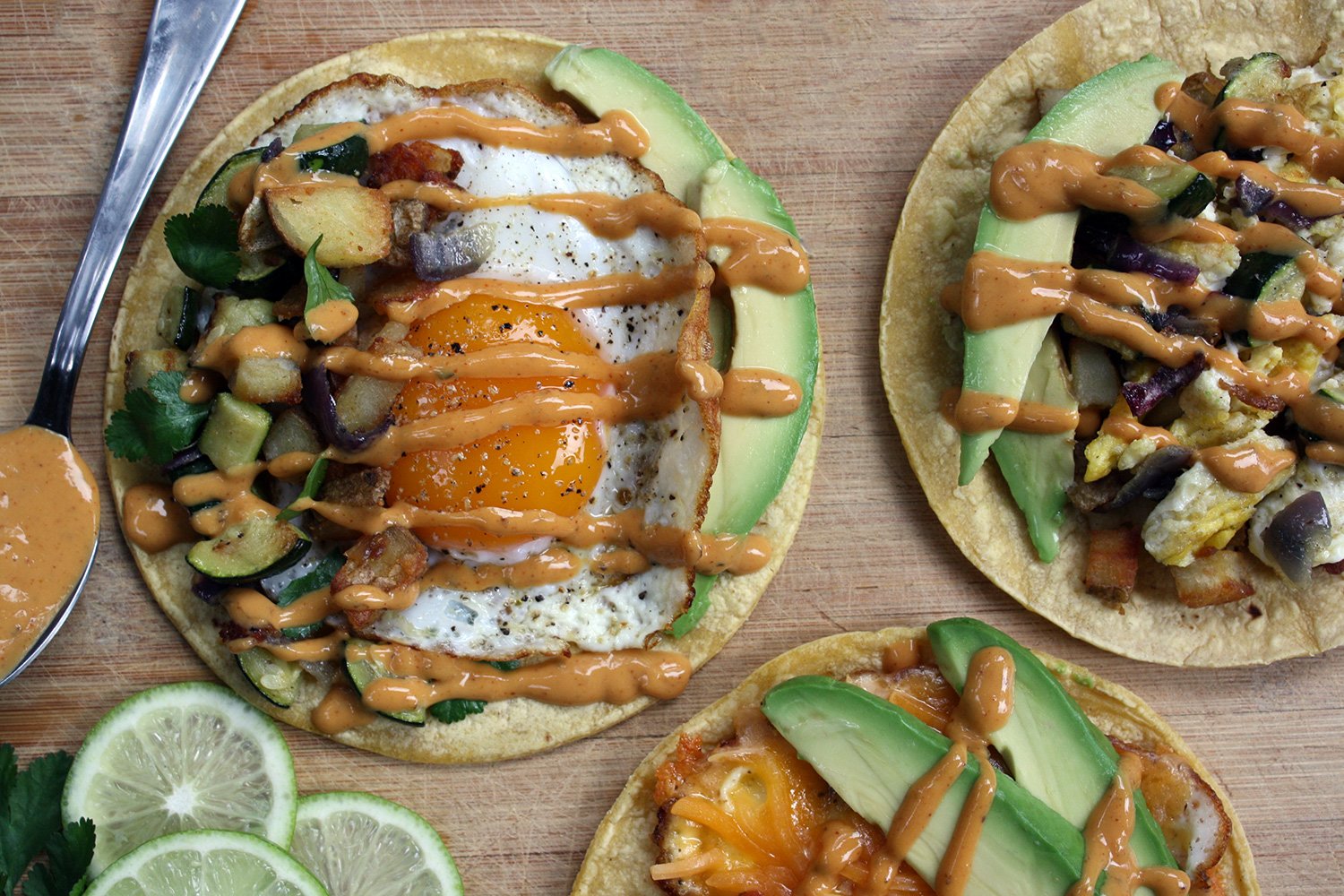 Quick and easy breakfast tacos make the most satisfying morning meal. A stack of soft corn tortillas gently warmed and filled with fluffy eggs, beans, or tofu, cheese, and veggies provides balanced fuel for the day ahead. Tacos are beloved because they offer a blank canvas ready to be transformed by your favorite flavors. They can be wonderfully fresh and light or decadently rich and filling.
Many popular breakfast taco ingredients, like oven-roasted potatoes and sautéed veggies, can be prepped ahead of time and reheated later for convenience, or you can go simple with just eggs, cheese, and avocado slices. No matter what ingredients you choose, one of our obsessions is a drizzle of Chipotle Yumm! Sauce® right on top to add a hint of spice and luscious creaminess in place of sour cream. We also can't get enough of the Jalapeño Sesame Salsa (found in jars at Café Yumm! restaurants) mixed into scrambled eggs. Such a delightful way to start the day!
Yumm! Breakfast Tacos
Ingredients
Serves 2-3
• 6 corn tortillas
• 4 to 6 eggs
• shredded cheddar cheese
• Chipotle Yumm! Sauce (Original or Roasted Garlic will be delicious on these too!)
• 2 medium potatoes, diced
• 1 medium zucchini, diced
• 1 small onion, chopped
• 1 avocado, sliced
• salsa
• cilantro, chopped
• lime wedges
• olive oil
• salt and pepper
Directions
1. Preheat oven to 425 degrees. Toss potatoes with olive oil until well-coated. Sprinkle with salt and pepper. Spread the potatoes in an even layer on a baking sheet and roast for 45 minutes, tossing every 15 minutes until brown and crispy.
2. Sauté onions in olive oil over medium heat until they become translucent. Add zucchini and a pinch of salt to the pan. Continue to cook until the onions brown and the zucchini becomes tender.
3. Scramble or fry eggs to your liking, seasoned with salt and pepper.
4. Warm each tortilla in a dry skillet over medium-high heat for about 15 to 30 seconds on each side. You'll know it's ready when soft and warm.
5. Build your tacos on the warmed tortillas with cheese, veggies, potatoes, eggs, avocado, a squeeze of lime juice, a drizzle of Chipotle Yumm! Sauce, salsa, and top with cilantro.
Other tasty breakfast taco possibilities:
• tofu scramble
• pan-fried or seasoned and baked tempeh
• black beans
• roasted sweet potatoes
• roasted garlic
• sautéed bell pepper
• sautéed kale or spinach
• shredded red cabbage
• shredded radicchio
• shredded carrots
• chopped scallions
• guacamole
• pickled onions
• pickled jalapeños
• Original Yumm! Sauce®
• Roasted Garlic Yumm! Sauce®
• Café Yumm! Jalapeño Sesame Salsa (available only in our restaurants)
Click here to order Yumm! Sauce online.
The post Yumm! Breakfast Taco Recipe first appeared on Café Yumm!.