2021-11-16
Baked Holiday Spinach Dip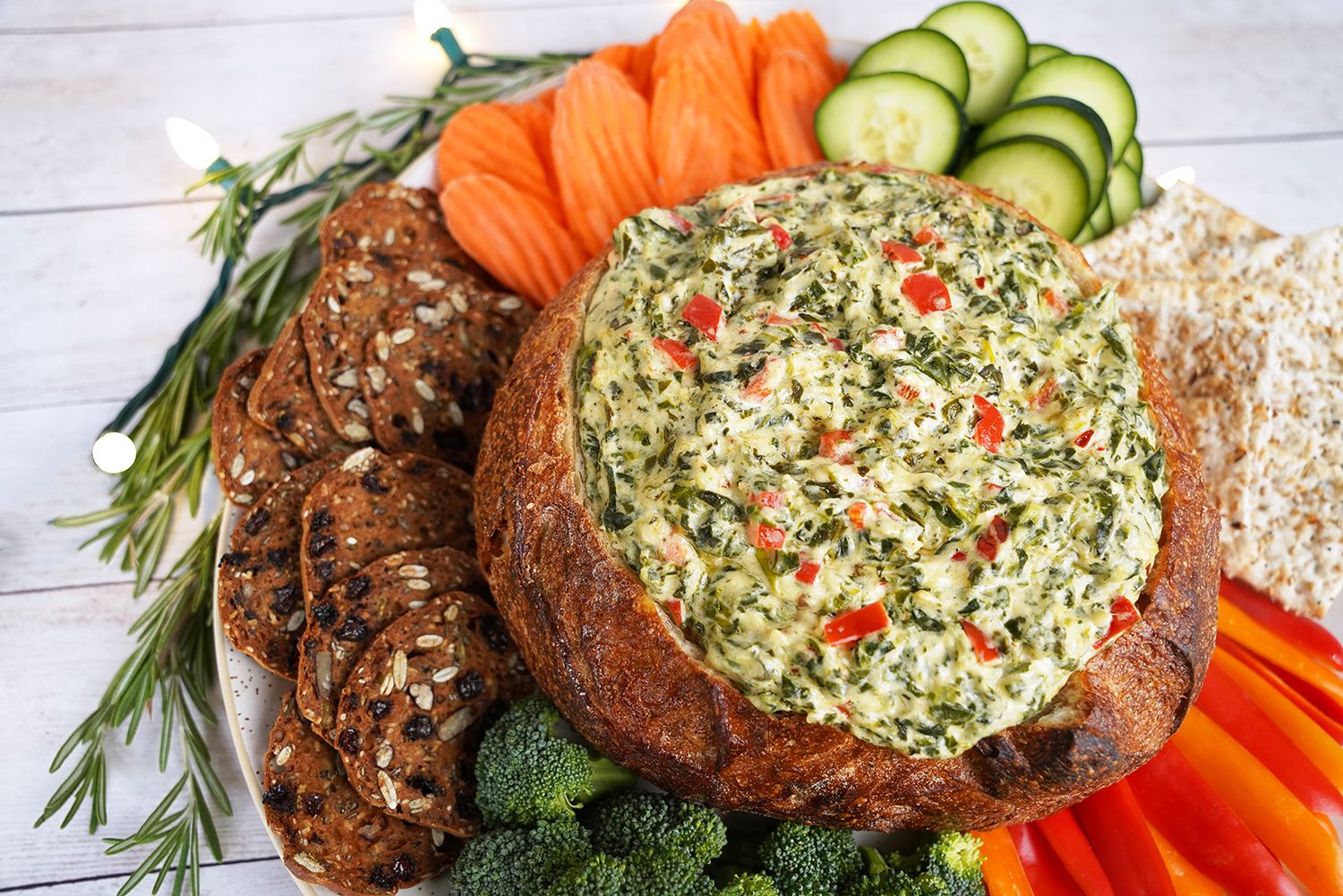 This creamy, dreamy spinach dip is a savory holiday favorite thanks to the addition of our secret ingredient … Yumm! Sauce®.
So festive this time of year, the ribbons of spinach remind us of evergreens, while little pops of red bell pepper resemble winter rosehips. If you're looking for a beautiful appetizer to be your table's centerpiece, this is it!
Easy to make and a big hit at parties, everyone will crave another bite of this warm dip's rich, melty, cheesiness. We used Original Yumm! Sauce in this version, but the Roasted Garlic or Chipotle would add a wonderful kick of flavor too.
Pair with a variety of fresh veggies, seeded crackers, toasted pita chips, and sliced apples for an unforgettable party platter.
Yumm! Spinach Dip
Prep Time: 10min.
Cook Time: 25min.
Ingredients
• 8 ounces cream cheese, softened
• 1 cup sour cream
• ½ cup Yumm! Sauce (any flavor)
• 1 head of garlic, peeled and crushed
• 16 ounces frozen, chopped spinach
• 1 red bell pepper, diced
• 2 cups Italian cheese blend
• ½ cup shredded parmesan cheese
• Salt, black pepper, and red chili flakes to taste

Directions
Preheat oven to 350°F.
Defrost the spinach on the stovetop or in the microwave.
Strain and squeeze as much liquid out as you can and set the spinach aside.
Beat cream cheese, sour cream and Yumm! Sauce with a mixer on medium until smooth and fluffy.
Stir in the garlic, spinach, red pepper, and Italian cheese blend.
Season with salt, pepper, and chili flakes to taste.
Spoon into a baking dish.
Bake uncovered for about 15 minutes, or until cheese is melty and the center is hot.
Top with parmesan cheese and bake for another 5 to 10 minutes, until cheese turns golden. (If using a bread bowl, pour the dip into a parchment paper lined bread bowl and continue with step 9.)
Serve warm in a decorative dish or bread bowl and enjoy!
The post Baked Holiday Spinach Dip first appeared on Café Yumm!.