2018-11-19
DIY Yumm! Bowl® Party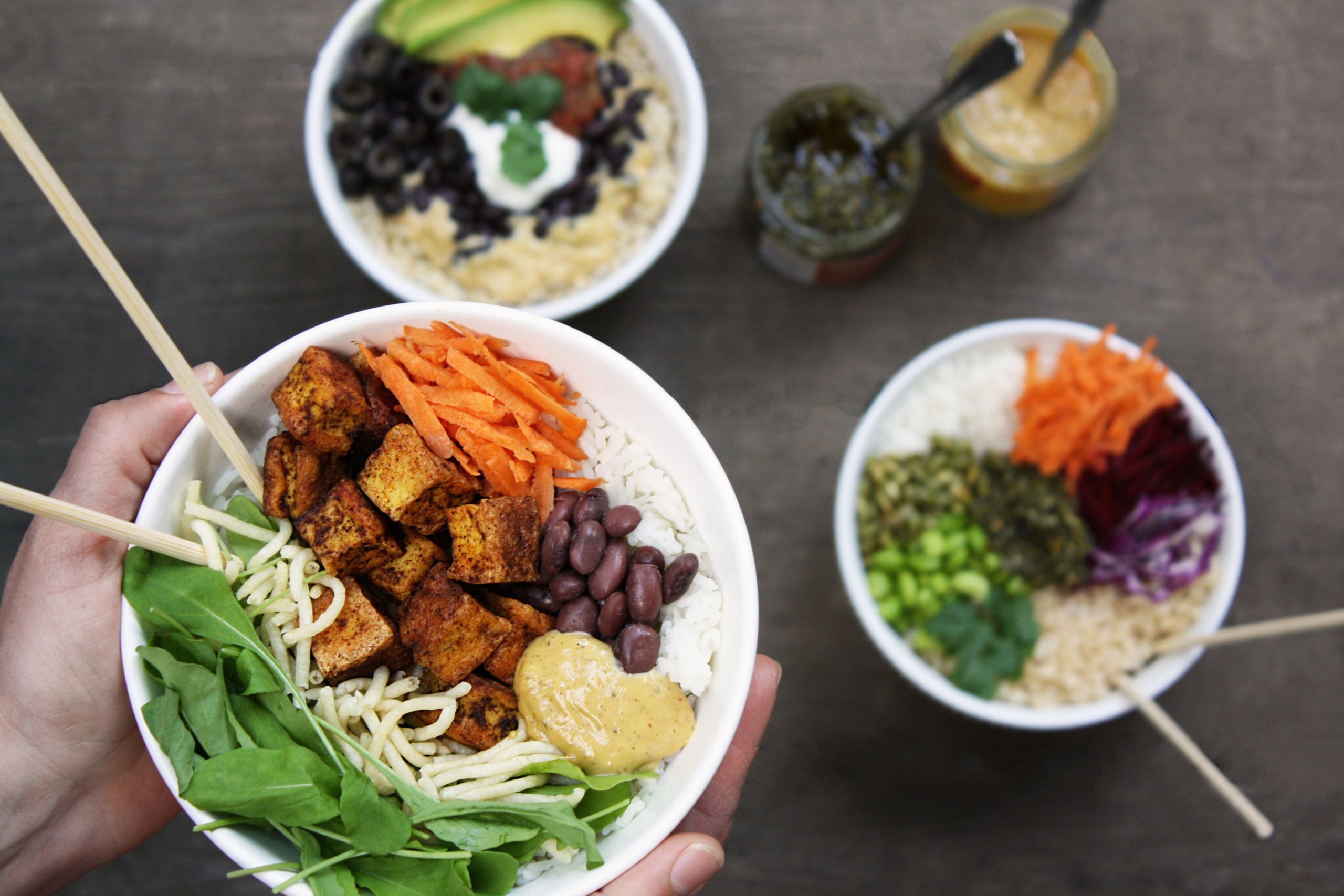 With a warm pot of beans, steamed rice, and a world of imagination, you can create a unique Yumm! Bowl® buffet for your next party. This easy crowd-pleaser is a great option to satisfy a variety of diets at an event, like a birthday party, office meeting, or family reunion.
A delightful array of enticing aromas, colors, textures, and flavors will inspire guests to scoop up the Yumm! Bowl of their dreams. Whether your guests are vegetarian, vegan, gluten-free, or love it all, everyone leaves a Yumm! Bowl potluck feeling happily nourished.
Tips for Planning a Yumm! Bowl Party
As the host of a build-your-own-bowl party, you'll want to provide the bowl basics: brown rice, black beans, and Original Yumm! Sauce®. A nice way to coordinate potluck contributions is to invite each guest to bring items from a few of the ingredient categories in the helpful list below. For the most interesting spread, encourage a diverse selection.
Once ingredients begin to arrive at the party, arrange them into stations. Start with the grains, beans, and sauces at the front of the line. Next up will be the veggies, protein, and dairy, with the herbs and garnishes placed last. This flow of ingredients will make Yumm! Bowl assembly quick and efficient.
When it's time to eat, everyone will choose a bowl and make their way down the line to build a meal with just the ingredients they like. That's why Yumm! Bowls are perfect for feeding both the adventurous and picky eaters in your life – each person can have exactly what they want. It's also fun to compare ingredient combinations and inspire each other to be creative as you go!
List of Yumm! Bowl Ingredient Options
Basic Must-Haves
• brown rice • black beans • Original Yumm! Sauce
Additional Grains
• jasmine rice • wild rice • quinoa • polenta
Additional Beans
• red beans • garbanzo beans • steamed and shelled edamame • chili
Sauces
• Chipotle Yumm! Sauce • Roasted Garlic Yumm! Sauce • Jalapeño Sesame Salsa (available at Cafe Yumm! restaurants) • hot sauce • pico de gallo salsa • hummus • pesto • soy sauce • sweet chili sauce • peanut sauce
Veggies
• sliced avocado • pitted olives • diced tomato • shredded carrots • salad greens • sprouts • sliced cucumbers • sweet corn • shredded purple cabbage • sliced red peppers • zucchini noodles • creamy slaw • sautéed kale • caramelized onions • roasted beets • steamed broccoli • roasted squash • baked sweet potatoes • sautéed mushrooms
Protein
• tofu • tempeh • chicken • fish
Dairy
• cheddar cheese • feta cheese • sour cream • plain yogurt
Fresh Herbs
• cilantro • basil • parsley • chives • mint
Garnishes
• Crispy Noodles (available at Cafe Yumm! restaurants) • sliced almonds • pumpkin seeds • sesame seeds • toasted seaweed • lemon wedges • tortilla chips

Want us to prepare the Yumm! for your next party instead?
View our catering menu featuring Yumm! Casseroles™, skewers, salads, cookies, and more from Cafe Yumm! restaurants.
The post DIY Yumm! Bowl® Party first appeared on Café Yumm!.